Summary
Current Position: US Representative of FL District 19 since 2021
Affiliation: Republican
Former Position: State Delegate from 2016 – 2020
Featured Quote: 
Humbled by the outpouring of support from thousands of Conservatives who want to join the fight to protect America from radical policies being pushed by the Left. We're just getting started!
Featured Video: 
Rep. Donalds Rips Chris Cuomo on COVID-19 Vaccine Freedom
News
On Wednesday, Naples Republican Congressman Byron Donalds met with the Southwest Florida Community Advisory Board for the Naples Daily News and The News-Press. In a wide-ranging discussion that lasted more than an hour, he reflected on his first eight months in federal office, which he called "a wild ride."
"In my view, we're facing some serious challenges … and my hope is the Congress and president can find a way to reconcile those crises," Donalds said.
One sharp contrast between Washington, DC and Tallahassee, where he served as a Florida representative from 2016 until last year, is the partisan divide and resulting difficulty advancing legislation.
Twitter
About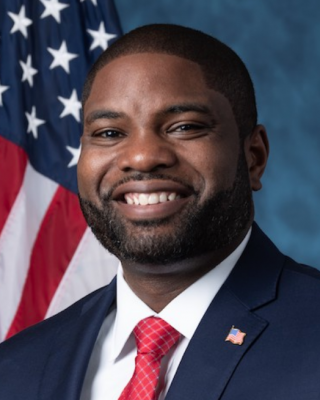 Source: Government page
Byron Donalds grew up in Brooklyn, New York, and he is also the proud son of a hardworking and loving single mother. His mother dedicated her time instilling in him that greatness requires sacrifice, which drives him as a devoted family man and United States Congressman.
Byron is a graduate of Florida State University and received a Bachelor of Arts degree in finance and marketing. Byron's career led him to Southwest Florida, where he worked in the banking, finance, and insurance industries. Elected to the Florida House of Representatives in 2016, Byron represented Hendry County and east Collier County in the State Capitol. During his tenure in the Florida House, Byron served as the PreK-12 Quality Subcommittee Chair during the 2018-2019 Legislative Session and served as the Insurance & Banking Subcommittee's Chairman 2019-2020 Legislative Session. While serving in the Florida House, primarily focused on elder affairs, criminal justice reform, and ensuring that each child has access to a world-class education.
In January of 2020, Byron Donalds announced his congressional campaign live on Fox & Friends. Byron won the Republican nomination for Florida's 19th Congressional District in August 2020, in a 9-way primary, filled with two self-funders and amidst the COVID-19 pandemic. During the general election, Byron received the endorsement of President Donald J. Trump, who called Byron a "rising star" and "a phenomenal Congressman." Byron secured his victory in the general election over a progressive leftist, with over sixty-two percent of the vote. He has been a featured guest on multiple media outlets such as Fox News, Newsmax, BBC, the Washington Post, and more. Byron is committed to serving and giving back to the community that gave him so much. He has served Southwest Florida in many ways, including previously serving on the Board of Trustees for Florida Southwestern State College after being appointed by then-Governor Rick Scott. Byron continues to volunteer in his church as a youth leader and a mentor. He also enjoys volunteering as a coach in youth football and basketball leagues.
Congressman Byron Donalds lives in Naples, Florida, with his wife, Erika, and their three sons: Damon, Darin, and Mason. Byron has spent his entire adult life serving others, whether it be through volunteering, business, or leadership. He is committed to representing Florida's 19th Congressional District's conservative values in Washington DC to ensure a stronger Florida and a stronger nation.
Voting Record
Committees
Committee on Oversight and Government Reform

Subcommittee on Civil Rights and Civil Liberties
Subcommittee on Economic and Consumer Policy

Committee on Budget
Committee on Small Business

Subcommittee on Economic Growth, Tax and Capital Access
Subcommittee on Oversight, Investigations and Regulations
Caucuses
Freedom Caucus
Republican Study Committee
Offices
Washington, DC Office523 Cannon HOB
Washington, DC 20515
(202) 225-2536Collier County Office3299 Tamiami Trail East
Suite 105
Naples, FL 34112
(239) 252-6225
Lee County Office1039 SE 9th Ave
Suite 308
Cape Coral, FL 33990
(239) 599-6033
Contact
Email:
Web
Government Page, Campaign Site, Twitter, YouTube, Wikipedia, Facebook, Government Page
Politics
Source: none
Campaign Finance
Open Secrets – We Follow the Money
Voting Record
VoteSmart – Key Votes & Ratings
Search
Wikipedia Entry
Byron Lowell Donalds (born October 28, 1978)[2] is an American politician and businessman serving as the U.S. representative for Florida's 19th congressional district since 2021.[3][4] His district serves most of the heart of Southwest Florida, including Cape Coral, Fort Myers, Bonita Springs, Estero, and Naples. A member of the Republican Party, Donalds was the Florida state representative for the 80th district, which encompasses Hendry County and part of Collier County,[5] from 2016 to 2020.[6][5][7]
Early life and education
Donalds was born and raised in the Crown Heights neighborhood in the New York City borough of Brooklyn.[8][9] One of three children, he was raised by his single mother.[8] In 1996, Donalds graduated from Nazareth Regional High School in East Flatbush.[10] He attended Florida A&M University and earned a Bachelor of Science degree in finance and marketing from Florida State University in 2002.[11][8]
In 1997, Donalds was arrested for marijuana distribution; the charges were dropped as part of a pre-trial diversion program. In 2000, he pleaded guilty to a felony bribery charge as part of a scheme to defraud a bank,[12] which was expunged after he entered the Florida House.
Career
Before entering politics, Donalds worked in the finance, insurance, and banking industries.[2] He has worked at TIB Bank, CMG Life Services, and Moran Wealth in Naples, Florida.[8]
After Donalds became involved in the Tea Party movement, he was encouraged to run for office.[8]
In 2012, Donalds was a candidate for U.S. House of Representatives in Florida's 19th congressional district. He finished fifth of six candidates.[13] In 2014, Donalds was reported as a likely candidate for the U.S. House in Florida's 19th congressional district after the resignation of Trey Radel, but decided against running.[13]
Donalds was elected to the Florida House of Representatives in 2016. During his Florida House tenure, he chaired the Insurance and Banking Subcommittee.[14]
U.S. House of Representatives
Elections
2020
Donalds was the Republican nominee for Florida's 19th congressional district in the 2020 election, running to succeed retiring incumbent Francis Rooney. He won a crowded nine-way Republican primary by 770 votes over State Representative Dane Eagle, finishing just over the threshold to avoid a recount.[15][16] Republicans have a 100,000-voter advantage over Democrats in registration, and Florida Gulf Coast University professor Peter Bergerson noted that the Republican primary is almost always the real contest for most races in the area.[15] In August 2020, anonymous text messages were sent out to constituents in the 19th district claiming that Donalds was dropping out of the race. Donalds later clarified via tweet that he was not dropping out and called the messages "illegal".[17][18] During his campaign, Donalds stated his support for economic freedom, clean water, nuclear power and decreased government involvement in health care. He opposed the Green New Deal.[8]
In the November general election, Donalds defeated Democratic nominee Cindy Banyai. Donalds has said he will focus on policy related to water quality in Southwest Florida.[19] Upon his swearing-in on January 3, 2021, Donalds became only the sixth person to represent this district since its creation in 1983 (it had been the 13th District from 1983 to 1993, the 14th from 1993 to 2013, and has been the 19th since 2013).
Tenure
In late 2020, Donalds was identified as a participant in the "Freedom Force", a group of incoming House Republicans who "say they're fighting against socialism in America".[20][21][22]
In January 2021, Donalds voted to object to the certification of electors from Arizona and Pennsylvania in the 2020 presidential election.[23]
Donalds was blocked from joining the Congressional Black Caucus.[24][25]
Iraq
In June 2021, Donalds was one of 49 House Republicans to vote to repeal the AUMF against Iraq.[26][27]
Committee assignments
Caucus memberships
Electoral history
2016
2016 Florida's 80th State House district Republican primary[31]

Party
Candidate
Votes
%
Republican
Byron Donalds
9,115
64.4%
Republican
Joe Davidow
5,041
35.6%
Total votes
14,156
100.0
2016 Florida's 80th State House district general election[32]

Party
Candidate
Votes
%
Republican
Byron Donalds
51,031
100.0%
Independent
Anthony Joseph Cetrangelo (write-in)
7
0.0%
Total votes
51,038
100.0
2018
2018 Florida's 80th State House district general election[32]

Party
Candidate
Votes
%
Republican
Byron Donalds
37,881
62.1%
Democratic
Jennifer Boddicker
22,207
36.4%
Independent
Dustin Alexander Lapolla
931
1.5%
Total votes
61,019
100.0
2020
2020 Florida's 19th congressional district Republican primary results[33]

Party
Candidate
Votes
%
Republican
Byron Donalds
23,492
22.6%
Republican
Dane Eagle
22,715
21.9%
Republican
Casey Askar
20,774
20.0%
Republican
William Figlesthaler
19,075
18.3%
Republican
Randy Henderson
7,858
7.6%
Republican
Christy McLaughlin
4,245
4.1%
Republican
Dan Severson
3,197
3.1%
Republican
Darren Aquino
1,466
1.4%
Republican
Daniel Kowal
1,135
1.1%
Total votes
103,957
100.0%
2020 Florida's 19th congressional district general election[34]

Party
Candidate
Votes
%
Republican
Byron Donalds
272,440
61.27%
Democratic
Cindy Banyai
172,146
38.72%
Independent
Patrick Post (write-in)
3
0.01%
Total votes
444,589
100.0
Personal life
Donalds and his wife, Erika, have three sons. They live in Naples, Florida.[35] Donalds became a Christian at age 21.[8]
See also
References
External links
Issues
Committees
Committee on Oversight and Government Reform

Subcommittee on Civil Rights and Civil Liberties
Subcommittee on Economic and Consumer Policy

Committee on Budget
Committee on Small Business

Subcommittee on Economic Growth, Tax and Capital Access
Subcommittee on Oversight, Investigations and Regulations
Legislation
Sponsored and Cosponsored
Issues