Summary
Current Position: US Representative of FL District 9 since 2017
Affiliation: Democrat
Former Positions: State Senator from 2012 – 2016; State Delegate from 2007 – 2012
Featured Quote: 
The #AmericanRescuePlan put shots in arms, money in pockets, & created a plan to #BuildBackBetter. Now, @HouseDemocratsare working with Republican members of the @ProbSolveCaucus & a bipartisan group of 67 senators to improve our infrastructure.
Featured Video: 
Soto Speaks in Support of Bipartisan Efforts to Bring Telecommunications Back to America
News
"I recently tested positive for #COVID19, and am grateful to only have mild symptoms, which I credit to the vaccine," Soto said. "I am currently self-isolating and working remotely. I encourage everyone to #GetVaccinated to save lives!"
Soto says he's also receiving monoclonal antibody treatment, but stresses that it is "not a substitutive for the COVID-19 vaccine."
"This morning I also received monoclonal antibody treatment to further reduce potential symptoms. This treatment is helpful but not a substitute for the COVID-19 vaccine. I encourage everyone to get vaccinated as soon as possible: Vaccines.gov."
Twitter
About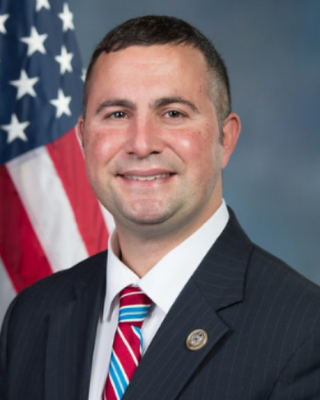 Source: Campaign page
Darren Soto was elected to Congress in 2016 to represent Florida's 9th Congressional District, which includes all of Osceola county, and parts of Orange and Polk counties. Darren is proud to be the first person of Puerto Rican descent to serve in Congress from Florida.
Darren Soto is an accomplished lawyer, legislator, environmentalist, and proud progressive representing the diverse, hardworking people of Central Florida in Congress. After graduating law school, Darren went into practice in Orlando to stand up for people in the courtroom (and play music on the side). He became involved with the Young Democrats and was elected to the Florida House at the age of 29. He served for 5 and a half years in the Florida House of Representatives before he was elected to Florida Senate, where he served for 4 years. During his nearly 10 years in the Florida Legislature, Darren worked to bring high-paying, high tech jobs to Central Florida; protect our clean air, land, and water; expand and protect health care; help families facing foreclosure; and improve education.
Darren is a graduate of Rutgers University and George Washington University School of Law. His wife, Amanda, has worked as a math and science teacher in the Osceola and Orange County public schools and is a retired member of the Orange County Classroom Teachers Association.
Voting Record
Committees
United States House Committee on Energy and Commerce

United States House Energy Subcommittee on Communications and Technology
United States House Energy Subcommittee on Consumer Protection and Commerce
United States House Energy Subcommittee on Environment and Climate Change

Committee on Natural Resources

Subcommittee on Indigenous Peoples of the United States
Caucuses 
New Democrat Coalition

Co-Chair, Technology Task Force
Climate Change Task Force

Congressional Blockchain Caucus
LGBT Caucus
Problem Solvers Caucus
Congenital Heart Caucus
Safe Climate Caucus
Congressional Labor Caucus
Black Maternal Health Caucus
Everglades Caucus
Experience
Work Experience
Florida state representative
2007 to 2012
Florida state senator
2012 to 2016
President
D. Soto Law Offices
Education
Personal
Birth Year: 1978
Place of Birth: Ringwood, NJ
Gender: Male
Race(s): Caucasian
Religion: Christian
Spouse: Amanda Soto
Contact
Email:
Offices
Washington, DC Office
1507 Longworth House Office Building
Washington, DC 20515
Phone: (202) 225-9889
Fax: (202) 225-9742
Haines City Office
620 E Main Street
Haines City, FL 33844
Phone: (407) 452-1171
Kissimmee Office
804 Bryan Street
Kissimmee, FL 34741
Phone: (407) 452-1171
Lake Wales Office
201 West Central Avenue
Lake Wales, FL 33853
Phone: (407) 452-1171
Winter Haven Office
451 3rd St. NW
Winter Haven, FL 33881
Phone: (407) 452-1171
Web
Government Page, Twitter, Facebook, Campaign Site
Politics
Source: none
Campaign Finance
Open Secrets – We Follow the Money
Voting Record
VoteSmart – Key Votes & Ratings
Search
Wikipedia Entry
Darren Michael Soto (born February 25, 1978) is an American attorney and Democratic politician from Kissimmee, Florida, who is the U.S. representative for Florida's 9th district.
Before his election to Congress, Soto served four years in the Florida Senate and five in the Florida House of Representatives, representing parts of central Florida.
Early life and education
Soto was born in Ringwood, New Jersey, to a Puerto Rican father, O. Lou Soto, and an Italian-American mother, Jean Soto. As a student at Lakeland Regional High School, Soto aspired to attend Yale University, but told The Record that his opportunities to attend were hampered by his teachers' unwillingness to write recommendations for him while they were involved in a contract dispute with the district.[1]
Florida House of Representatives
In 2006, Soto ran for the Florida House of Representatives from the 40th district, unsuccessfully challenging incumbent Andy Gardiner. In April 2007, he won the crowded Democratic primary in a special election to replace John Quinones, who had resigned to run for the Osceola County Commission.[2] In the general election, Soto defeated Republican nominee Tony Suarez by 285 votes. Soto was overwhelmingly reelected in 2008 and 2010.[3][4]
During his three terms in the Florida House, Soto supported laws to curb illegal street racing, passed the "John C Curry" Firefighter Death Benefit Act to protect families of fallen firefighters who died in training exercises, and the Bus Driver Notification Act to help school bus safety.[5][6]
Florida Senate
In 2012, Florida Senate districts were redrawn, and Soto opted not to run for reelection in the House but instead to run for the newly created 14th district, which included predominantly Latino areas of Orange, Osceola, and Polk Counties. He won his party's nomination uncontested and defeated Republican nominee Will McBride[7] with over 70% of the vote.[8]
In 2013, Soto voted for legislation to expedite driver's license access for DREAMers but it was ultimately vetoed by Governor Rick Scott,[9] setting off statewide protests.[10] He unsuccessfully proposed an amendment to require jury votes of 10 jurors rather than a majority of 7 for death penalties.[11]
In 2014, Soto passed legislation answering the Florida Supreme Court's call to give it the authority to admit immigrant lawyers to the Florida Bar. He also advocated legislation to give DREAMers in-state college tuition. He secured the initial state funding to establish a Poinciana Valencia Campus and to initiate the Lake Toho Restoration, which will clean water flowing through the Northern Everglades. In addition, he led the Democratic House and Senate Caucuses in drafting a Congressional map during the 2014 Special Session on Redistricting.[12]
During the 2015 legislative session, Soto was fundamental in securing $11.9 million in funding for Valencia College's Poinciana campus.[13] He also successfully pushed for $20 million to restore the Kissimmee River.[14] This earned him the Audubon Society of Florida's "Champion of the Everglades" award.[15] Soto also proposed legislation to ban fracking in Florida.[16] He secured $10 million in Florida's budget to promote economic growth in Osceola County for a new facility to manufacture high-tech sensors, but Governor Scott vetoed the project.[17] Soto also introduced a bill to boost minimum teacher pay to $50,000 per year.[18][19]
Soto steered funding to his district, including $15 million for the UCF Sensors Manufacturing Center, $12 million to complete the construction of the Poinciana Valencia College campus,[20] $4 million in supplemental school construction money,[21] $750,000 for the Northern Everglades and Lake Toho initiatives, and $150,000 for a transition house that offers temporary housing for veterans. In 2016, Soto supported Chloe's Law to construct barriers around water bodies adjacent to state roads,[22] the Deaf Floridian's ID bill,[23] and the Juvenile Clean Slate bill, which automatically seals misdemeanor records for juveniles who reach 21 years of age and do not reoffend as adults.[24]
U.S. House of Representatives
Elections
2016
Soto won the Democratic nomination to succeed Representative Alan Grayson, who stepped down to run in the primary for U.S. Senate in Florida's 9th congressional district.[25] Soto earned 36% of the vote in a four-way primary election.[26] The district is Democratic-leaning and contains all of Osceola County and parts of Orange and Polk counties. Soto represented the majority of this district while serving in the Florida House of Representatives and the Florida Senate. The Orlando Sentinel endorsed him in his primary race, calling him an "effective lawmaker".[27] In the general election, Soto defeated Republican nominee Wayne Liebnitzky, 57%–43%.[28]
2018
On August 28, Soto won the Democratic primary with 66% of the vote, defeating a challenge from Grayson.[29] Soto received endorsements from multiple Democratic organizations, such as the National Organization for Women,[30] Pride Fund to End Gun Violence,[31] Giffords PAC,[32] Democratic Environmental Caucus of Florida,[33] National Committee to Preserve Social Security & Medicare,[34] Equality PAC,[35] League of Conservation Voters,[36] Human Rights Campaign,[37] Florida AFL-CIO,[38] Florida Young Democrats,[39] Orlando Professional Fire Fighters International Association of Fire Fighters Local 1365, Central Florida Police Benevolent Association,[40] Florida LGBTA Democratic Caucus,[41] eMgage PAC,[42] Congressional Progressive Caucus PAC,[43] and Planned Parenthood.[44] Soto also had the backing of Vice President Joe Biden,[45] U.S. Representatives John Lewis[46] and Linda Sánchez, Florida State Senator Vic Torres, and every Florida Democratic member of Congress.[47]
On November 6, Soto won the general election, defeating Republican nominee Wayne Liebnitzky with 58% of the vote.[48]
2020
Soto ran for a third term and was virtually unopposed in the Democratic primary, with only one challenger, who dropped out in October 2019.[49] In the November 3 general election, he defeated Republican nominee Bill Olson with just over 56% of the vote.[50]
Tenure
Soto is the first congressman of Puerto Rican descent elected from Florida.[51] In his first few weeks, Speaker Nancy Pelosi named him one of three freshmen members to the Democratic Steering and Policy Committee. He was also named co-chair of the House Democratic Caucus New Economy Task Force.[52]
On April 5, 2017, Soto and Senator Bill Nelson passed their Hurricane Hunters bill (HR 1008) by amendment to the Weather Research and Forecasting Innovation Act of 2017. This legislation adds two backup Hurricane Hunter aircraft to the NOAA fleet to increase hurricane monitoring and preparedness.[53]
On December 23, 2017, Soto passed his second bill, the Foreign Spill Protection Act, with co-introducer Carlos Curbelo. The bill eliminates a $1 billion cap on damages for foreign oil drillers, whose oil spills pollute America's waters, to better protect Florida's coasts.[54]
Soto introduced a bill to rename a Kissimmee Post Office (HR 4042) at 1415 West Oak St after the Borinqueneers. This bill passed both chambers of Congress and was signed into law on March 23, 2018. The Borinqueneers were a U.S. Army segregated unit of Puerto Ricans who fought in World War I, World War II and the Korean War.[55]
Soto passed a law to protect billfish, such as marlin, spearfish, and sailfish. H.R. 4528 closes a loophole in the Billfish Conservation Act making it illegal to sell billfish in the continental United States. The law passed the House on June 25, 2018, and was signed into law on August 2, 2018.[56]
Soto negotiated with Brightline (now Virgin Trains) to build the link between their train and SunRail.[57] He was tied for first for most laws passed by a freshman member of the 115th Congress. He also filed the second most bills of any freshman.[58]
Following reelection, Soto secured a spot on the Energy and Commerce Committee.[59]
On June 24, 2019, Soto passed his first law of the 116th Congress, the Strengthening Mosquito Abatement for Safety and Health (SMASH) Act, which aims to combat future Zika outbreaks in Florida, Puerto Rico and other areas.[60]
On July 25, 2019, Soto passed the Venezuela TPS Act of 2019 out of the House as the last bill to pass before the August District Work Period.[61]
On December 18, 2019, Soto voted for both articles of impeachment against President Donald Trump.[62]
In his second term, Soto worked with Val Demings and Stephanie Murphy to renew federal grants to the Central Florida region, including over $30 million for affordable housing and to prevent homelessness,[63][64] $3.25 million to fund local anti-terrorism efforts,[65] and $1.961 million for zero-emission Lynx Lymmo buses.[66]
Soto also assisted in securing federal grants of nearly $30 million for Hurricane Irma disaster relief to Polk and Osceola Counties,[67] over $3 million for healthcare clinics in Osceola and Polk Counties,[68][69][70] and $250,000 to improve Kissimmee and Winter Haven airports.[71]
During the COVID-19 pandemic, Soto voted for all four pandemic relief packages, including the Coronavirus Preparedness and Response Supplemental Appropriations Act 2020, Families First Coronavirus Response Act, Coronavirus Aid Relief and Economic Security Act (CARES Act) and the Paycheck Protection Program and Health Care Enhancement Act to help the nation combat the crisis.[72] He has helped lead Florida's delegation in securing additional supplies of remdesivir from his position on the Energy and Commerce Committee.[73] On May 15, 2020, Soto voted for the HEROES Act, which passed the House and provided further pandemic relief. This legislation included his Save Our Homes Act, which helps homeowners save their homes from foreclosure by ending forbearance agreement balloon payments.[74] On October 2, 2020, Soto voted for the updated HEROES Act. This compromise legislation amended the original bill, would provide further pandemic relief and passed the House. At the time of its passage, the Senate still had failed to pass a new pandemic relief package.
On June 26, 2020, Soto passed legislation out of the House designating the Pulse National Memorial in recognition and memory of the 49 killed and 53 injured at the Pulse Nightclub shooting. He introduced this bill with Demings and Murphy. Upon its passage, Soto said, "Today, we remind the world that hate will never defeat love, grief can turn into strength and that a place of loss can become a sanctuary of healing. Together, we will continue to open minds and hearts. We will make the Pulse Memorial a national symbol of hope, love and light."[75]
On July 1, 2020, Soto voted for the Moving Forward Act, a national infrastructure improvement plan. Of the bill, he said, "As our nation continues to confront the coronavirus crisis, this legislation will create millions of good-paying jobs and equip our nation with the 21st-century infrastructure critical to growing our economy and helping our communities prosper for decades to come. Passage of this bold legislation also means more funding to help complete the I-4 Expansion quickly and safely."[76]
Committee assignments
Caucus memberships
Political positions
Immigration
Soto is a staunch advocate for DREAMers and has worked with fellow members of the Hispanic Caucus to pass the DREAM Act.[83] In June 2018, he traveled with several Democratic members of Congress to Homestead, Florida, to tour a detention facility, where he argued against Trump's zero tolerance policy and the separation of children and families.[84] He has been a vocal advocate in Congress for Alejandra Juarez, the wife of an Iraq combat veteran and mother of two American daughters, who was deported to Mexico due to Trump's policy. "Zero tolerance literally ripped this family apart", Soto said. "The administration is so extreme on immigration that they're deporting the spouses of military veterans."[85]
Environmental policy
For 2017, Soto was considered[86] He introduced the Wild and Scenic River Study Act of 2017 (H.R.3961), which passed unanimously out of committee on January 17, 2018. On April 16, 2018, it passed unanimously out of the House.[87] Soto helped lead opposition to Trump administration proposals to permit oil drilling off Florida's Gulf and Atlantic coasts during House Committee on Natural Resources meetings.[88][89][90] He has also supported funding increases for the National Estuary Program the National Wildlife Refuge System program.[91]
the Florida Congressional delegation's greenest member. He received a perfect score of 100 for his environmental issues voting record from the National League of Conservation Voters.
On June 6, 2018, Soto passed his Shark and Billfish Protection Act out of House Natural Resources Committee. Bill Nelson passed the Senate companion bill on October 2, 2017.[92]
Gun control
Soto received an F rating from the NRA during his first term in Congress and supported numerous gun law reforms. On February 27, 2019, he voted for the Universal Background Check Bill.[93] Soto received an A rating from the NRA in 2012,[94] but his views changed after the 2012 Sandy Hook shooting. In the Florida Senate, he became a reliable vote for gun control, which ultimately led to earning a D rating from the NRA for his service there from 2013 to 2016.[95]
After the 2016 Orlando nightclub shooting, Soto called for a special session to prevent those on the FBI's No Fly List from purchasing firearms.[96] Since 2017, he has been a reliable vote for gun law reform. After the 2018 Stoneman Douglas High School shooting, he proposed a "Gun Safety Action Plan". He listed five steps: universal background checks for gun purchases, keeping guns away from those who are a danger to themselves or others, banning assault weapons and bump stocks, creating a "red-flag" system to issue gun restraining orders, and disallowing anyone on the federal terrorism no-fly list from buying a gun.[97] Soto also said gun control would be "one of those litmus test issues" in the 2018 midterm elections.[98]
Hurricane safety
Working with Nelson, Soto passed his first law in Congress on April 18, 2017, creating a backup fleet of hurricane hunter aircraft to monitor hurricanes affecting Florida and other nearby areas.[99]
Recovery assistance
Soto is working on debt reduction and tax, healthcare, agriculture and small business relief to assist Puerto Rico's economic recovery.[100] He also co-signed a bipartisan letter requesting FEMA Designation of Individual Assistance for the citizens of Orange, Osceola, Polk, Lake and Seminole Counties after Hurricane Irma.[101] In 2018, he voted to renew recovery funds to Central Florida and Puerto Rico after Hurricanes Irma and Maria.
Personal life
Soto's major hobby is music and he has been writing songs and playing in bands since he was in high school. He is a singer, songwriter and guitarist for the Orlando folk rock band Orange Creek Riders.[102] They have played various live shows, such as Orlando Fringe Festival, Planned Parenthood's Rock and Roe Concert, Delandapalooza, along with various political events. As part of its "Best Of" series, Orlando Weekly named Orange Creek Riders the "Best Congressional Folk Band".[103] He also hosts a radio show and podcast, "Rock and Politics", which combines current political issues with related music.[104]
On April 1, 2018, Soto's wife, Amanda Soto, was arrested at Walt Disney World and charged with disorderly intoxication.[105] In a statement, Darren Soto said his wife had been in treatment for depression for years and had recently stopped taking medication in accordance with her treatment plan and under her doctor's supervision. He added that "she deeply regrets her actions and takes full responsibility for them."[106]
See also
References
External links
Recent Elections
2018
| | | |
| --- | --- | --- |
| Darren Soto (D) | 172,172 | 58% |
| Wayne Liebnitzky (R) | 124,565 | 42% |
| TOTAL | 296,737 | |
Source: Ballotpedia
Finances
SOTO, DARREN MICHAEL has run in 8 races for public office, winning 6 of them. The candidate has raised a total of $3,994,023.
Source: Follow the Money
Committees
Committees
House Committee on Energy and Commerce
House Committee on Natural Resources
Subcommittees
Communications and Technology
Consumer Protection and Commerce
For Indigenous Peoples of the United States
Environment and Climate Change
Voting Record
See: Vote Smart
New Legislation
Source: Congress.gov
Issues
Source: Government page
Committees
Subcommittee on Communications and Technology

Subcommittee on Consumer Protection and Commerce

Subcommittee on Environment and Climate Change

Natural Resources 

Subcommittee for Indigenous Peoples of the United States

Subcommittee on Water, Oceans and Wildlife
Leadership
Legislation
Sponsored and Cosponsored
Issues
Economy
Agriculture is an integral part of Central Florida's thriving economy.  With hard-working farmers, fertile land, a lush climate, and a year-round growing season, we help feed our country and the world. Agriculture and national resource industries manage about two-thirds of our state's land area.  Conservation and sound environmental management on these lands are critical to maintaining clean water and air, wildlife habitat, and outdoor recreation areas, and guarding against climate change.
In the 9th District, we have over 300,000 acres of farmland, including the top cattle producing county in Florida (Osceola) and the second-highest citrus producing county (Polk).
Crop, livestock, forestry and fisheries production output and direct employment are:
Osceola: output $108 million; jobs 622
Polk: output $712 million; jobs 11,534
Orange: output $285 million; jobs 2,929
As a member of the Agriculture Committee, Darren is working in Congress to support and grow these industries, maintaining support for workers in these jobs, and the communities that depend on them. He is working on the Agriculture Committee and with the Appropriations Committee to fund research to combat citrus greening, which is hurting our groves. He is working to advance cattle research and provide access to crop insurance for our emerging blueberry and peach growers.
Darren also serves on the Subcommittee on Commodity Exchanges, Energy, and Credit. He is working on this subcommittee to ensure the smooth functioning of commodity exchanges, promote access to agricultural credit, and support rural development and electrification.
Darren believes the biggest issue facing our District and our Nation is the need for higher paying jobs.  To meet these needs, Darren is working to foster strong long-term job growth by boosting existing high tech sectors in and around our District and supporting the robust tourism and agricultural industries which make up the foundation of our economy.
High Tech
Specifically, Darren supports further development of the University of Central Florida's Simulation and Training program in East Orlando, developing the biotech industry at Medical City in Lake Nona, promoting sensors manufacturing in Kissimmee-St Cloud, the data storage and cybersecurity industry in Winter Haven, applied engineering programs at Florida Polytechnic in Polk County, and the space industry in neighboring Brevard County.
Over his legislative career, Darren has brought in millions of dollars in investments to support research and development and grow higher paying jobs right here at home.
Tourism
Visitors come from around the world to experience Florida's beautiful beaches, amazing theme parks, diverse native species, as well as our countless lakes, rivers and springs.
Darren successfully sought a seat on the Natural Resources Committee, to continue his career-long fight to protect our environment and quality of life and keep tourism going strong.  He also supports the investments in airports, roads, railways, and ports infrastructure that we need to help employees get to work and visitors to their destinations.
Agriculture
Darren successfully sought a seat on the Agricultural Committee to support critical jobs for Central Florida and feed America.
He is fighting for continued funding to combat citrus greening which is hurting our groves, to advance cattle research, and to provide access to crop insurance for our emerging blueberry and peach growers.
As a member of the Subcommittee on Commodity Exchanges, Energy, and Credit, Darren is working to ensure the smooth functioning of commodity exchanges, promote access to agricultural credit, and support rural development and electrification.  This work benefits 9th District farmers, consumers, and our economy.
Supporting Working Families
Prosperity begins by making sure America's working families get ahead in life and can pursue the American Dream.
That's why Darren supports policies that keep and grow jobs in America, raise the federal minimum wage to $15 an hour, strengthen collective bargaining rights and workplace protections, increase access to quality education and healthcare, and protect Medicare and Social Security for our seniors and future generations.
Finally, Darren is working to assist Florida's strong cultural and economic partner, Puerto Rico, as our neighbors work to recover from a long recession.  He will work on the Subcommittees on Indian, Insular and Alaska Native Affairs, and on Oversight and Investigations to ensure fair implementation of the PROMESA Act and assist our friends and family on the Island in returning to economic prosperity.
Selected bills on the economy co-sponsored by Congressman Soto:
H.R.357 – Overseas Outsourcing Accountability Act – to require the President to develop and release a comprehensive national strategy to prevent United States employers from overseas outsourcing and offshoring practices that impact the United States workforce.
H.R.255 – Promoting Women in Entrepreneurship Act – this bill amends the Science and Engineering Equal Opportunities Act to authorize the National Science Foundation to encourage its entrepreneurial programs to recruit and support women to extend their focus beyond the laboratory and into the commercial world.
H.R.24 – Federal Reserve Transparency Act of 2017 – this bill directs the Government Accountability Office (GAO) to complete, within 12 months, an audit of the Federal Reserve Board and Federal Reserve banks.  In addition, the bill allows the GAO to audit the Federal Reserve Board and Federal Reserve banks with respect to: (1) international financial transactions; (2) deliberations, decisions, or actions on monetary policy matters; (3) transactions made under the direction of the Federal Open Market Committee; and (4) discussions or communications among Federal Reserve officers, board members, and employees regarding any of these matters.
Education
Education is fundamental to upward mobility and pursuing the American Dream.  Every child must have access to a high-quality K-12 public education, college or technical education, and lifelong learning opportunities.
Federal funding is critical for programs such as English for Speakers of Other Languages (ESOL), Title 1 for economically disadvantaged schools, and to ensure equal access for all students regardless of race, religion, sex, disability, or sexual orientation.  It is equally important that states and local school boards control most educational decisions to avoid over-testing our kids or unneeded bureaucracy.
Access to high quality college, apprenticeship and other technical training for adult learners is essential in our rapidly changing economy.  Central Floridians and all Americans need to be able to develop and enhance their skills to start new careers and fill the jobs of today and tomorrow.
Darren is fighting to ensure access to low-interest federal student loans with reasonable repayment terms and for job retraining grants to provide technical training for those needing new skills.
Darren is working with members of the Education and Workforce Committee and will file several bills to make access to student loans easier and repayment more affordable.
Selected bills on education co-sponsored by Congressman Soto:
H.R.813 – To restore access to year-round Federal Pell Grants.
Environment
Darren is committed to expanding our energy mix by incentivizing renewable energy such as solar, wind, biofuels, and hydropower.  Hailing from the Sunshine State, he understands the importance of solar, in particular, to assist with peak generation demands in the middle of an average Florida day when the sun is shining and the air conditioners are running.
Darren also believes we must maintain reliable and affordable electric service by ensuring that our push for renewable diversity is in harmony with continued use of natural gas and nuclear power as appropriate.
It is critical that we meet the energy demands of today while developing the clean energy technology of tomorrow.  It is up to today's leaders to embrace the long term challenge of combating climate change and saving our planet for future generations.
We must also protect Florida's natural beauty, pristine beaches and long-term water supply.  It is important for our quality of life, and for our economy.  As a result, Darren opposes off-shore drilling near Florida's coast and fracking on its lands.
I look forward to working on the Natural Resources Subcommittee on Energy and Mineral Resources to resolve these and other major challenges.
Selected bills on energy and the environment co-sponsored by Congressman Soto:
H.R. 468 – Foreign Spill Protection Act of 2017 – make foreign facilities liable for removal costs and damages that result from oil spills that reach (or threaten to reach) U.S. navigable waters, adjoining shorelines, or the EEZ.
H.R. 502 – To permanently reauthorize the Land and Water Conservation Fund – to make permanent the authorization for the Land and Water Conservation Fund.
Health Care
Darren will fight to protect Medicare, Social Security and Medicaid for our seniors and our persons with disabilities to safeguard healthcare and financial security for the most vulnerable among us.  Our seniors have paid into these programs their entire lives and have earned these benefits.  Our disabled and their families need our help to give them a reasonable quality of life.
Darren also supports the Patient Protection and Affordable Care Act, which reaffirms his belief that healthcare is a right for all Americans.  This important legislation protects all Americans with pre-existing conditions, keeps all young people on their parents' health insurance until age 26, and protects all Americans from going broke if they get sick by prohibiting lifetime caps.
Florida's healthcare exchange has provided over 1.3 million Floridians with health insurance and is the largest federal exchange in the county.  Floridians also received more healthcare subsidies than any other state.
Darren is open to improving or replacing the Act as long as the same number of people remain covered at the same or lower cost.  However, Darren will oppose any repeal of the Act without replacement, since it would hurt countless Floridians and be catastrophic to our healthcare system.
Selected bills on healthcare co-sponsored by Congressman Soto:
H.R. 508 – Seniors Have Eyes, Ear, and Teeth Act of 2017 – to expand Medicare coverage to include eyeglasses, hearing aids, and dental care.
H.R. 165 – Restoring the Partnership for County Health Care Costs Act of 2017 – allow, an otherwise eligible individual under Title XVI, to receive SSI, Medicare, Medicaid or CHIP benefits.
H.R. 173 – Middle Class Health Benefits Tax Repeal Act of 2017 – repeal the excise tax on employer-sponsored health care coverage for which there is an excess benefit (high-cost plans).
H.R. 166 – Outpatient Mental Health Modernization Act of 2017 – stabilize and modernize the provision of partial hospitalization services under the Medicare Program, and for other purposes.
Immigration
Immigration advocates meet with Congressman Soto in Kissimmee.
The United States is a nation of immigrants and a nation of laws.  Our immigrants are working; our laws are not.  Darren is working to fix them.
Many of our nation's founders were immigrants, and each generation has benefitted from immigrants who contribute to our economy and society.  For instance, over 40 percent of Fortune 500 companies were founded by immigrants or their children, creating millions of jobs and untold prosperity.  We only hurt ourselves when we turn away budding job creators, doctors who are willing to work in rural and underserved communities, and others who are contributing to our country. Pushing people into the shadows, limits their contributions to our economy and tax base, makes it more difficult for them to report crimes, and creates uncertainty for their families.
"I believe the answer is comprehensive immigration reform and recognizing the contributions of the immigrants in our communities, and not trying to attack and deport people." – Congressman Soto
Darren is fighting to empower immigrants to contribute to our community and earn the American Dream.  As a State Senator, he passed legislation to make college more affordable for DREAMers – young people brought to this country through no fault of their own – and to allow them to practice law in Florida.
As a Member of Congress, Darren's immigration priorities include:
Comprehensive immigration reform that would allow people to pay any taxes they owe, get right with the law, and when that's done, get on the path to citizenship.  Even in a Washington environment that has become more polarized and dysfunctional over the last couple decades, there was bi-partisan consensus around the need for comprehensive immigration reform as recently as a few years ago.
Protecting DREAMers, including those who have come out of the shadows through the Deferred Action for Childhood Arrivals (DACA) program, and Deferred Action for Parents of Americans (DAPA) recipients.
Modernizing the guest worker and visa systems that are vital for our agriculture and tourism industries.
Resources:
Florida Bar Referral: (800) 342-8011
Orange Bar Associates: (407) 422-4551
Community Legal Services: (407) 847-0053
ACLU National Hotline Number: (212) 549-2500
Selected bills on immigration co-sponsored by Congressman Soto:
H.R.532 – DREAMer Information Protection Act – Information provided by an applicant for deferred action under the Deferred Action for Childhood Arrivals program of the Department of Homeland Security may not be used for the purpose of immigration enforcement proceedings.
H.R.858 – DREAMers, Immigrants, and Refugees (DIRe) Legal Aid Act – Directs the Department of Justice to make grants to nonprofit legal services providers with immigration law expertise to provide immigration-related legal services and advice to an alien who is a permanent resident, DACA/Refugee status or eligible for, and is in the removal procedures.
H.R.912 – Protecting Immigrants From Legal Exploitation Act of 2017
H.Con.Res.25 – Expressing the sense of Congress on the admission of refugees and immigrants to the United States.- Expressing the sense of Congress on the admission of refugees and immigrants to the United States.
H.R.748 – Safeguarding Sanctuary Cities Act of 2017 – That if a state or local government has in place any policy that limits compliance with a detainer, federal financial assistance that the state or local government would otherwise receive may not be reduced or withheld by reason of such noncompliance.
H.R.722 – No Funds for Unconstitutional Executive Orders Act – This bill prohibits any federal agency funds, resources, or fees from being used to carry out any of the policy changes set forth in the executive order entitled "Protecting the Nation from Foreign Terrorist Entry into the United States," signed by President Donald J. Trump on January 27, 2017.
H.R.724 – SOLVE Act of 2017 – This bill states that: (1) beginning on January 27, 2017, Executive Order 13769, entitled "Protecting the Nation from Foreign Terrorist Entry into the United States," is null and void, shall have no force and effect, and may not be implemented or enforced; and (2) no federal funds may be used to implement or enforce any of the policy changes set forth in such order. Among the order's major provisions are restrictions on the entry of immigrants and nonimmigrants from seven countries and additional limitations on refugee admissions to the United States.
H.R.1006 – To clarify the rights of all persons who are held or detained at a port of entry or at any detention facility overseen by U.S. Customs and Border Protection or U.S. Immigration and Customs Enforcement.
H.Res.102 – Expressing the sense of the House of Representatives regarding the appointment of an independent counsel to investigate actions by United States Customs and Border Protection in apparent violation of judicial orders.
Infrastructure
Transporation & Infrastructure
Darren will continue his longtime advocacy for greater infrastructure investment in our District.
First and foremost, he is engaging in critical oversight to help keep the I-4 Ultimate improvements on budget and on time, with an expected completion date of 2022.  An expansion of Central Florida's main highway is long overdue and is critical to our future growth.
Second, he is closely monitoring SunRail Phase 2 which is set to open in early 2018 and will serve Meadow Woods, Buenaventura Lakes, Downtown Kissimmee and Poinciana.  He is pushing for funding for SunRail Phase 3 to connect SunRail to Orlando International Airport.
Our vision is clear: with these projects, Central Floridians will finally have both rail and car options for their daily commute, and we will alleviate congestion on I-4!
Third, Darren will pursue a new control tower for the Kissimmee airport and a runway extension at Lake Wales along with local officials to continue to foster growth in these communities.
Fourth, Darren is fighting to fully fund and provide regulatory support to the multimodal center at Orlando International Airport which will serve as an international terminal, SunRail Station and Brightline Station.
Under this vision, one day soon, Central Floridians will be able to hop on at any SunRail Station, and take a plane for Orlando International anywhere or high speed train to West Palm Beach, Ft Lauderdale, or Miami.
Fifth, Darren will continue to work with local and state leaders to bring new transportation options to Polk County, including the Central Polk Parkway or other alternatives.  We must have additional transportation options beyond US 27 and US 17-92 to keep our community moving forward!
Finally, Darren supports the further development of Florida's ports in neighboring coastal areas to increase our export capacity for agricultural and manufactured products.
Selected bills on transportation and infrastructure co-sponsored by Congressman Soto:
H.R.233 – Safe Freight Act of 2017 – this bill prohibits the operation of a freight train or light locomotive engine used in the movement of freight unless it has a crew of at least two individuals, one of whom is certified by the Federal Rail Administration as a locomotive operator and the other as a train conductor.
Social Security
Congressman Darren Soto is fighting for senior citizens and working to secure their earned benefits. With over 170,000 seniors in Florida's 9th Congressional District, Rep. Soto believes in the safety and protection of our elderly, especially during natural disasters. Preparing for a natural disaster is no easy task, and the elderly are often at a disadvantage.
After Hurricane Irma, Darren Soto visited the Good Samaritan Kissimmee Village, which focuses on serving numerous retirees in Central Florida. After witnessing the damage that reduced the village capacity by half, Darren requested and secured immediate assistance from FEMA to support the Kissimmee Village. Rep. Soto has showed compassion and care for our senior citizens and has made it his mission to ensure displaced senior citizens get back to their normal lives.
With nearly 1 out of 5 Florida residents over the age of 65, Florida serves one of the largest populations of senior citizens in the country. This is why Darren strongly believes in expanding Medicare coverage to include eyeglasses, hearing aids, and dental care. He believes in Medicare exclusions of essential services for our elderly such as incidents related to falls, chronic conditions and depression to ensure they live long and healthy lives.
Darren also wants to make sure our Florida senior citizens are protected from fraud. The elderly are often targeted by financial predators and Darren is working to ensure the Federal Trade Commission is advised on the malicious ways financial predators go after senior citizens.
Recently, Rep. Soto hosted a tele-townhall co-hosted by AARP Florida to speak directly with constituents. If you need assistance with claiming your federal benefits or with health care, please contact Rep. Soto's District offices.
Puerto Rico
Congressman Soto has been on the front lines leading the fight for Puerto Rico. Since Hurricane Maria made landfall, Soto pushed for disaster relief from the federal government. He's been working closely with the Puerto Rican government, including with Resident Commissioner of Puerto Rico, Jennifer Gonzalez, on numerous legislative plans that support victims and their families.
Congressman Soto is an original co-sponsor of H.R 4782 "Puerto Rico and Virgin Islands Equitable Rebuild Act of 2018" that provides additional disaster recovery assistance for the Commonwealth of Puerto Rico and the U.S. Virgin Islands. He also co-introduced the Humanitarian Disaster Relief Act of 2017 to allow for a temporary waiver of the Jones Act which increased resources for humanitarian relief efforts during the aftermath of the hurricanes.
"Puerto Rico and the Virgin Islands are in crisis. People are dying and the time for action is now. These are American's and we can't turn our backs on them."
Immediately following the Hurricanes, Rep. Soto visited Puerto Rico to assess firsthand the damaged caused on the island. A few months later, he visited the island again alongside Florida Senator Bill Nelson, to visit schools, hospitals, and to evaluate the damage that remained. Following the visits, he launched a Regional Task Force, consisting of Central Florida's elected officials and leaders, to address the needs of displaced Puerto Rican evacuees in the district. Since Hurricane Maria, more than 400,00 people have relocated to Florida, many who are in need of assistance. Unfortunately, that number keeps rising.
"The reality is that my fellow Puerto Ricans are still arriving in Florida in great numbers, every day. Our state does not have the resources to manage this influx without any help with transition"
Rep. Soto has championed numerous issues directly affecting the Puerto Rican community, including increasing federal funding from FEMA, extending the Transitional Shelter Assistance housing program, and easing the integration process for students who have evacuated to the Florida College System and other local schools. Rep. Soto led multiple letters to federal government agencies requesting continued efforts to help Puerto Ricans.  Efforts ranged from housing assistance to oversight on contracts to rebuild the island.
 "There are children who are in the middle of their school year who could be without a home next week, with their families. We keep urging FEMA to approve an extension of the TSA program beyond the current deadline, particularly for those who aren't eligible for the Direct Lease program"
Rep. Soto will continue fighting for all Puerto Ricans on the island and the newly arrived constituents in Central Florida.
Womrn
 "I will always stand up for the right of women to make their own health and family planning decisions. I will fight for equal pay for equal work, paid family leave, and policies that support working women and families."
Throughout his years in public service, Rep. Soto has been a strong advocate for women's rights, believing women should be treated no less than equal in every regard. While leaps and bounds have been made since our country's founding, we are still a long way from true equality. Women currently earn about 20% less than their male counterparts for the same work. This gap is one Rep. Soto is steadfastly committed to closing.
"It's pretty simple: Everyone should get equal pay for equal work."
Rep. Soto believes it is necessary to support women in business and the workforce. He is a proud supporter of the Promoting Women in Entrepreneurship Act along with the Equal Pay Act and Paycheck Fairness Act. Rep. Soto has and will continue to sponsor legislation that addresses these issues.
"It's about more than basic fairness. When women do better, all working families do better. Paying working women what they deserve means more working families can afford to save for college and retirement."
Aside from the pay gap, women face a number of unique challenges. Women are still fighting for access to paid family leave, affordable childcare, reproductive healthcare, and the right to make their own healthcare decisions.
"In Congress, I will always stand up for the right of women to make their own health and family planning decisions — and I will fight tooth-and-nail any effort to defund Planned Parenthood and take away comprehensive women's health services."
In 2015, Rep. Soto was rated 100% and endorsed by the Florida Alliance of Planned Parenthood Affiliates, and in 2016, he was rated 100% by Planned Parenthood Action Fund. As a Member of Congress, Rep. Soto attended the Women's March of 2017 & 2018 in solidarity with the grassroots champions of this fight, and is a proud sponsor of the Women's Health Protection Act of 2017 as well as the Equal Access to Abortion Coverage in Health Insurance Act of 2017.
"Women have a right to control their own bodies. Reproductive health care decisions should be between a woman and her doctor — and nobody else."
Women are also disproportionately impacted by domestic violence, sexual assault, and harassment. Rep. Soto acknowledges the weight of this injustice and has been an active champion against it. In the Florida legislature, he was proud to lead the fight in successfully doubling the statute of limitations for criminals of rape and sexual violence. Now in Congress, Rep. Soto has co-sponsored numerous pieces of legislation that support victims and their families.