Summary
Current Position: US Representative of FL District 17 since 2019
Affiliation: Republican
Former Positions: State Senator from 2016 – 2018; State Delegate from 2010 – 2016
Featured Quote: 
The CDC is giving us whiplash with their ever-changing guidance, but don't back up their arbitrary rules with any sound science.   The American people are tired of this.
Featured Video: 
Interview with Florida Sen. Greg Steube
News
Sarasota Congressman Greg Steube was in a break room at the University of Florida's law school on Sept. 11, 2001, when the first hijacked airplane hit the World Trade Center.
The law students watched the horror unfold on television.
Steube had never considered joining the military before that day, but said he felt called to serve after the terrorist attack.
"I just viewed it as my responsibility to serve our country," he said. "After your country has been attacked, it's our generation's Pearl Harbor day. We were attacked on our own soil."
Twitter
About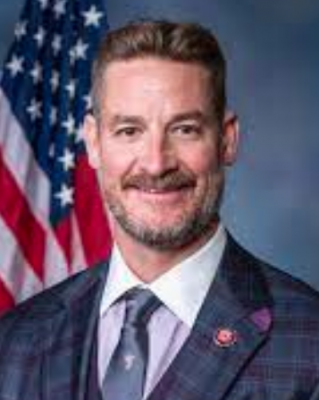 Source: Government page
Congressman Greg Steube is a veteran and a fifth-generation Floridian serving Florida's 17th Congressional District, which spans nine counties in Florida.
In Congress, Greg has been a warrior for individual liberties, fighting to defend our Constitutional rights and promoting fiscal restraint and accountability of government spending. Presently, he serves on the House Judiciary and Foreign Affairs Committees. Through these committee assignments, Greg has spent time advocating for conservative immigration policies, standing up for our nation's heroes, and fighting for faith-based values. He is also recognized as a leader in the agriculture community, recognizing the important balance between agriculture and water quality issues surrounding Florida's Lake Okeechobee.
Greg's adult life has been defined by service. Prior to serving in Congress, Greg served in for eight years in both the Florida House and the Florida Senate, protecting the Second Amendment, fighting illegal immigration and providing common-sense solutions to a wide array of other issues.
However, Greg's commitment to public service began long before his involvement in politics. Immediately after graduating from the University of Florida with both undergraduate and law degrees, Greg answered the call to serve in the war on terror following the September 11th attacks. Enlisting in the U.S. Army, Greg served with distinction from 2004 to 2008 as an Airborne Infantry Officer and a JAG Corps Officer. Greg served as the Chief of Detainee Operations for Multinational Division North in Iraq with the 25th Infantry Division in support of Operation Iraqi Freedom from 2006-2007.
The 17th District covers all of Charlotte, DeSoto, Glades, Hardee, Highlands, and Okeechobee counties along with portions of Lee, Polk, and Sarasota. The District's land area of over 6,300 square miles is home to some of the largest cattle ranches, crops, and citrus farms in the State and is the largest citrus-producing district in the entire nation.
Greg lives in Sarasota with his wife Jennifer, son Ethan and their rescue dogs, Luke, Leia, Chance, and Matty.
Voting Record
Committees
Caucuses 
Offices
Contact
Email:
Web
Government Page, Campaign Site, Twitter, YouTube, Facebook, Wikipedia
Politics
Source: none
Campaign Finance
Open Secrets – We Follow the Money
Voting Record
VoteSmart – Key Votes & Ratings
Search
Wikipedia Entry
William Gregory Steube[1] (/ˈstuːbi/ STOOB-ee; born May 19, 1978) is an American attorney and politician serving as the U.S. representative for Florida's 17th congressional district since 2019. His district stretches across a large swath of south-central Florida, from the outer suburbs of Sarasota and Fort Myers through the Everglades to the shores of Lake Okeechobee. A member of the Republican Party, Steube served three terms in the Florida House of Representatives, representing the Sarasota–Manatee area from 2010 to 2016, as well as two years in the Florida Senate until 2018, representing Sarasota County and the western part of Charlotte County.
Early life
Steube was born in Bradenton to Brad Steube, who served as Sheriff of Manatee County. He graduated from Southeast High School in 1996.[2] He attended the University of Florida, receiving a degree in Animal Science in 2000, and then his Juris Doctor from the Fredric G. Levin College of Law in 2003. At UF, Steube was a brother of Alpha Gamma Rho fraternity. After graduation, Steube joined the United States Army and attended The JAG School at the University of Virginia and entered U.S. Army JAG Corps. He served from 2004 to 2008 and deployed to Iraq in support of Operation Iraqi Freedom.
Florida House of Representatives
When State Representative Ron Reagan was unable to seek reelection in 2010 due to term limits, Steube ran to succeed him in the 67th District, based in southern Hillsborough County, eastern Manatee County, and northern Sarasota County, stretching from Apollo Beach to Fruitville. He received an endorsement from U.S. Representative Vern Buchanan, who called Steube "extremely knowledgeable of the district and the district's issues."[3] In the Republican primary, he defeated Jeremiah J. Guccione and Robert McCann with 53% of the vote to Guccione's 28% and McCann's 19%. He advanced to the general election, where he faced Democratic nominee Z. J. Hafeez and independent candidate John M. Studebaker. Both candidates opposed offshore oil drilling off the coast of the state, supported solar energy, and favored medical tort law reform "that they [felt would] increase access to health care for Floridians."[4] Steube won 68% of the vote to Hafeez's 27% and Studebaker's 5%.
After the reconfiguration of state legislative districts in 2012, Steube's district was renumbered the 73rd district. The district was pushed further into Sarasota County while losing its share of Hillsborough County. Steube won his party's nomination unopposed, and moved on to the general election, facing only Bob McCann, who had previously run against Steube in the 2010 Republican primary, but was running as an independent. Steube and McCann disagreed over whether the state should expand Medicaid under the Patient Protection and Affordable Care Act, with Steube opposed and McCann in favor, and over whether the state should fund charter schools, with Steube in favor and McCann opposed.[5] Steube was endorsed by the Bradenton Herald, which praised him for his "strong first term and his qualifications", specifically calling him out for working to put two constitutional amendments on the ballot that provide tax exemptions to the spouses of deceased military veterans and property tax relief to low-income seniors.[6] Steube defeated McCann with 74% of the vote. In 2014, Steube was reelected to his third term in the legislature without opposition.
Florida Senate
In 2016, Steube ran for the Florida Senate seat vacated by Nancy Detert, who was term limited. He defeated four other candidates in the Republican primary, receiving 31% of the vote, and won the general election against Democrat Frank Alcock, 59 to 41%.[7][8]
U.S. House of Representatives
Elections
2018
Steube ran for the Republican nomination for Florida's 17th Congressional District in 2018, a seat that was being vacated by Tom Rooney, who declined to seek reelection. He won the August 28 Republican primary. In the November 6 general election, he defeated Democrat Allen Ellison, who replaced the original Democratic nominee, April Freeman, after she died unexpectedly in September.[9]
2020
Steube was reelected in 2020 with 64.6% of the vote, defeating Democrat Allen Ellison.[10]
Tenure
Steube supports repealing the Affordable Care Act.[11] During the COVID-19 pandemic, Steube argued that the "deep state" at the FDA was preventing the usage of hydroxychloroquine, an antimalarial drug, to treat COVID-19.[11]
In December 2020, Steube was one of 126 Republican members of the House of Representatives to sign an amicus brief in support of Texas v. Pennsylvania, a lawsuit filed at the United States Supreme Court contesting the results of the 2020 presidential election, in which Joe Biden defeated incumbent Donald Trump.[12] The Supreme Court declined to hear the case on the basis that Texas lacked standing under Article III of the Constitution to challenge the results of an election held by another state.[13][14][15]
On January 6-7, 2021, Steube voted not to certify the election of Joe Biden as President.[16] On January 13, Steube voted against the Second Impeachment of Donald Trump. [17]
In October 2020 and again in January 2021, Steube introduced a bill to stop technology platforms from suspending right-wing accounts.[18]
In late February 2021, Steube and a dozen other Republican House members skipped votes and enlisted others to vote for them, citing the ongoing COVID-19 pandemic, but he and the other members were actually attending the Conservative Political Action Conference, which was held at the same time as their slated absences.[19] In response, the Campaign for Accountability, an ethics watchdog group, filed a complaint with the House Committee on Ethics and requested an investigation into Steube and the other lawmakers.[20]
In June 2021, Steube was among 21 House Republicans who voted against a resolution to give the Congressional Gold Medal to police officers who defended the U.S. Capitol on January 6.[21]
In June 2021, Steube was one of 49 House Republicans to vote to repeal the AUMF against Iraq.[22][23]
Committee assignments
Caucus memberships
Electoral history
Six weeks before the 2018 election, Steube's Democratic opponent, 54-year-old April Freeman, was found dead. As of January 2019, the cause of death is unknown.[26] A replacement, Allen Ellison, was appointed, but ballots were already printed. Rather than reprint, Ellison's name was left off of the ballot.[27]
Florida's 17th congressional district, 2018

Party
Candidate
Votes
%
Republican
Greg Steube
193,326
62.3
Democratic
Allen Ellison
117,194
37.7
Total votes
310,520
100.0
Republican hold
Florida's 17th congressional district, 2020

Party
Candidate
Votes
%
Republican
Greg Steube (incumbent)
266,514
64.6
Democratic
Allen Ellison
140,487
34.1
Independent
Theodore Murray
5,396
1.3
Total votes
412,397
100.0
Republican hold
References
External links
Issues
Source: Government page
Committees
Legislation
Issues