Summary
Current Position: US Representative for FL District 2 since 2017
Affiliation: Republican
Former Position(s): Surgeon from 1980 – 2015
Featured Quote: 
May is Mental Health Awareness Month. Check out my video below for information on where to get the support you or a loved one may need. #FL02 #itsgonnabemay #MentalHealthMatters
Featured Video: 
Rep. Neal Dunn Says Masks, Quarantine Are Going Way Overboard | TMZ
News
Republican members of Congress and state governors were appalled by news Thursday that President Joe Biden will force employers with more than 100 workers to require coronavirus vaccinations or test employees weekly, vowing to block the new policy and terming it unconstitutional.
The mandate, which is expected to affect as many as 100 million Americans in an array of jobs, including health care, directly impacts the private sector.
"This is absolutely unconstitutional," Rep. Thomas Massie, R-Ky, wrote in a tweet, attaching a link to the news.
"Mandates are not the answer," Rep. Neal Dunn, R-Fla., said in response. "Getting the vaccine should be up to you and your doctor — not the federal government."
Twitter
About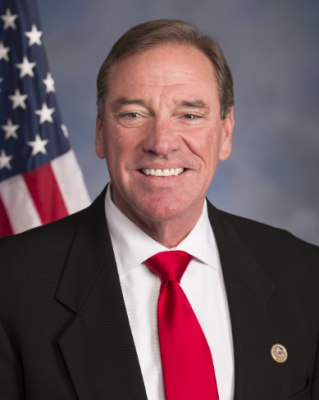 Source: Government page
Dr. Neal Dunn grew up in an Army family and was stationed at over 20 places before college including in Vietnam during middle school. He was an Eagle Scout and National Merit Scholar before matriculating at Washington and Lee University. After medical school at George Washington, he joined the US Army as a surgeon completing his residency at Walter Reed Army Medical Center (WRAMC) and Surgical Fellowship at Duke University. He continued his surgical career in many stations around the world before settling in Bay County, Florida in 1990. It was during his service at WRAMC in Washington that he met and married his wife Leah, of over 30 years.
Dr. Dunn was a surgeon in Panama City for 25 years and was the founding president of the Advanced Urology Institute, a 45-physician practice with over 400 employees. He also founded the Bay Regional Cancer Center and pursued a special interest in advanced Prostate Cancer. He sat on the Governor's Prostate Cancer Advisory Council and the Florida Blue Physician Advisory Board. Prior to being elected to Congress, Dr. Dunn served on the Board of Governors of the Florida Medical Association, and as President of his County Medical Society, Chief of Staff of Gulf Coast Hospital, and Director of the Bay Medical Center Sacred Heart Joint Venture. He was recognized as a Healthcare Hero by the Florida Department of Health for his chairmanship of Bay Cares, a medical charity headquartered in Panama City that provided about $30 million of completely free medical care annually to the working poor in Bay and 8 surrounding counties.
Dr. Dunn was also the founding Chairman of Summit Bank, a rapidly growing 5-star community bank headquartered in Panama City. He was honored to be named to the Board of Directors of Space Florida which operates the space launch complexes and numerous research, assembly, and support facilities on Cape Canaveral. He also served as a Director of Enterprise Florida, the state's economic development agency.
Dr. Dunn lives in Panama City, Florida with his wife Leah. In his free time, he enjoys quail hunting and spending time on the water. They are the proud parents of 3 sons (Alexander, Patrick, and David) and 3 grandchildren.
Voting Record
Committees
United States House Committee on Energy and Commerce

Subcommittee on Health
Subcommittee on Oversight and Investigations
Subcommittee on Consumer Protection and Commerce
Caucuses 
Republican Study Committee
Experience
Work Experience
U.S. Army
1989 to 2010
Urologist
Education
B.S.
Washington & Lee University
M.D.
George Washington University
Personal
Birth Year: 1953
Place of Birth: Boston, MA
Gender: Male
Race(s): Caucasian
Spouse: Leah Dunn
Contact
Email:
Offices
Washington, DC Office
316 Cannon House Office Building
Washington, DC 20515
Phone: 202-225-5235
Fax: 202-225-5615
Panama City
840 West 11th Street
Suite 2250
Panama City, FL 32401
Phone: 850-785-0812
Fax: 850-763-3764
Tallahassee Office
300 South Adams Street
Tallahassee, FL 32301
Phone: 850-891-8610
Fax: 850-891-8620
Web
Government Page, Twitter, YouTube, Facebook
Politics
Source: none
Campaign Finance
Open Secrets – We Follow the Money
Voting Record
VoteSmart – Key Votes & Ratings
Search
Wikipedia Entry
Neal Patrick Dunn (born February 16, 1953) is an American surgeon and politician of the Republican Party serving as the U.S. Representative for Florida's 2nd congressional district since 2017.
Early life and career
Dunn was born in Boston, Massachusetts on February 16, 1953.[1][2] He earned a Bachelor of Science degree in interdisciplinary sciences from Washington and Lee University and a Doctor of Medicine from the George Washington University School of Medicine & Health Sciences. He completed his medical internship at Walter Reed Army Medical Center. He served in the United States Army for eleven years of active duty service, reaching the rank of major.[3] He then settled in Panama City, Florida, where he helped found the Panama City Urological Center, the Panama City Surgery Center, and was the founding chairman of Summit Bank.[4]
U.S. House of Representatives
Elections
In August 2015, Dunn announced his candidacy for the United States House of Representatives for Florida's 2nd congressional district in the 2016 elections. The district's one-term incumbent, Democrat Gwen Graham, opted to retire after a court-ordered redistricting made the district heavily Republican.[4][5][6] He won the Republican Party nomination, narrowly defeating attorneys Mary Thomas and Ken Sukhia.[7] He defeated Walter Dartland in the general election.[8] He was sworn into the House of Representatives on January 3, 2017.[9]
Brian Schubert, Neal Dunn's chief of staff resigned in February 2018 following the House Ethics Committee having launched an investigation into alleged sexual harassment by Schubert and Pat Meehan.[10]
Dunn has held multiple virtual town hall meetings since the coronavirus pandemic began in March 2020. The congressman has told media outlets in the past that he doesn't believe town halls are a productive format for engaging constituents.[11] Constituents have voiced frustration with Dunn for his refusal to host town halls.[12]
In 2018, Dunn won reelection against challenger Bob Rackleff by a vote of 67.5% to 32.5%, respectively.[13]
Committee assignments
Caucus memberships
Political positions
His campaign website identifies him as conservative.
Gun policy
Dunn received an "AQ" rating from the NRA during his 2016 run for office — the highest rating possible for a non-incumbent.[15]
Dunn does not support a ban of semi-automatic weapons.[16]
From 2015 to 2016, Dunn accepted US$1,000 from the NRA's Political Victory Fund.[17]
Net neutrality
Dunn, along with 107 Republican members of Congress, sent Federal Communications Commission Chairman Ajit Pai a letter on December 13, 2017 supporting his plan to repeal net neutrality protections ahead of the commission's vote.[18] Dunn also accepted $18,500 from the telecom industry before voting to repeal the rule.[19]
Tax reform
Dunn voted in favor of the Tax Cuts and Jobs Act of 2017.[20] He describes the bill as "good medicine for America".[21] Dunn believes that the bill will benefit many generations of Americans with a "great economy in which there will be jobs, there will be opportunity, there's possibilities for literally a whole new generation or two of Americans". Dunn says he has received support from "mostly small businessmen" from his district on his support of the bill.[22]
Education
Dunn wants to defund the Department of Education.[23]
Healthcare
Dunn supports repealing the Affordable Care Act, which he says is "failing," saying "no one can afford" the premiums and deductibles.[24]
2020 presidential election certification
In December 2020, Dunn was one of 126 Republican members of the House of Representatives who signed an amicus brief in support of Texas v. Pennsylvania, a lawsuit filed at the United States Supreme Court contesting the results of the 2020 presidential election, in which Joe Biden prevailed[25] over incumbent Donald Trump. The Supreme Court declined to hear the case on the basis that Texas lacked standing under Article III of the Constitution to challenge the results of the election held by another state.[26][27][28]
Following the 2021 storming of the Capitol, Dunn condemned the rioters, but still voted to object to the certification of the Electoral College result in several states.[29][30]
Personal life
Dunn and his wife, Leah, have three sons and three grandsons.[6] On April 9, 2020, Dunn's office announced that he tested positive for COVID-19.[31]
References
External links
Recent Elections
2018 US Representative
| | | |
| --- | --- | --- |
| Neal Dunn (R) | 199,335 | 67.4% |
| Bob Rackleff (D) | 96,233 | 32.6% |
| TOTAL | 295,568 | |
Source: Ballotpedia
Finances
DUNN, NEAL PATRICK has run in 3 races for public office, winning 2 of them. The candidate has raised a total of $3,835,764.
Source: Follow the Money
Committees
Committees
House Committee on Agriculture
House Committee on Veterans' Affairs
Subcommittees
Biotechnology, Horticulture, and Research
Commodity Exchanges, Energy, and Credit
Health
Voting Record
See: Vote Smart
New Legislation
Source: Congress.gov
Issues
Source: Government page
Committees
United States House Committee on Energy and Commerce
Legislation
Issues
Civil Rights
In Congress, I will fight to ensure that our Second Amendment rights are not infringed upon by bureaucrats in Washington. I believe that every law-abiding American has the Constitutional right to keep and bear arms. The first bill I cosponsored in Congress is legislation to ensure your Florida concealed carry permit is honored in every other state that issues concealed carry permits. Your Second Amendment rights don't end when you cross state borders.
For more information concerning work and views related to the Second Amendment, please contact our office.
Democracy
Economy
Florida's Second District is home to extensive row crops, peanuts, cotton, cattle, dairy, poultry and some of the most productive forests in the nation. The agriculture industry is an integral part of the economy in the Second District.
I was honored to receive an appointment to the House Agriculture Committee, where we are getting right to work reviewing our farm policies in preparation for a new Farm Bill. I look forward to working with my colleague Congressman Ted Yoho to ensure the voices of Florida farmers and foresters are heard in Congress.
Second District families know that we have a long way to go to get our economy back on track. As a small business owner, I know firsthand how unnecessary government regulation can harm job creators across Florida and the country. That's why I will be working every day to create jobs and support our small businesses, so every hardworking American has the opportunity to succeed.
Key to this will be dialing back government overregulation and reforming our tax system so American workers can better compete in a global economy. It's time to put the brakes on government borrowing and overspending, because the tax and spend policies of Washington are hurting families across the country. We have already passed the REINS Act, critical legislation that requires Congressional approval for major new regulations.
I am committed to being a strong voice for Florida agriculture and farmers and ranchers, and I am honored to have been appointed to the House agriculture committee.
For more information concerning work and views related to Economy, please contact our office.
Health Care
Having worked as a doctor in both the U.S. Army and the 2nd District for over 30 years, I know firsthand how important the relationship is between doctors and their patients. That's why I continue to support full repeal of the Affordable Care Act. Bureaucrats in Washington shouldn't be making important decisions about your health care, you should.
Over the last several years, we have seen how detrimental the Affordable Care Act has been on this country. It has kicked millions of Americans off their insurance plans, sky-rocketed their insurance costs, and limited their choice in choosing the doctors they like. Hardworking Americans across the country are forced to spend more on their health care. We need patient-centered reforms that actually lowers costs and expands access for all.
I look forward to working with my colleagues in Congress to fully repeal and replace the Affordable Care Act with a common-sense, patient-centered health care law that will decrease skyrocketing insurance costs, while improving the quality of care.
For more information concerning work and views related to Health, please contact our office.
Veterans
Over the last several years we have heard horror stories across the country about veterans being denied the care they need and deserve.
It's clear that under the current system, our veterans aren't getting the care they have earned. As a veteran of the U.S. Army, ensuring our men and women in uniform get the support they need is one of my top priorities in Congress. I was honored to be appointed the Veterans Affairs Committee
Our veterans have fought to secure our freedoms; they shouldn't have to continue to fight the bureaucrats in Washington when they get back.
For more information concerning work and views related to Veterans issues, please contact our office.