Summary
Current Position: US Representative of FL District 13 since 2017
Affiliation: Democrat
Candidate: 2022 Governor
Featured Quote: 
Featured Video: 
News
DAYTONA BEACH — Wearing a button spelling out the letters GOTV, Charlie Crist rallied a church sanctuary full of masked, socially distanced Democrats around one idea on Thursday: Getting more people vaccinated.
With 47.5% of its residents fully vaccinated against COVID-19, Volusia County is slightly behind Florida (47.9%) and trailing the United States (51.7%) even further. And the county — as is the state — is experiencing a surge of cases, hospitalizations and deaths.
Crist, a Democratic congressman from St. Petersburg, is looking to unseat Republican Gov. Ron DeSantis, but that election isn't for another 14+ months. So Crist's GOTV message had a different meaning.
Twitter
About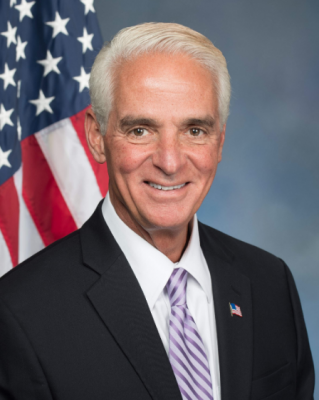 Source: Government page
Charlie Crist is honored to represent Florida's 13th, the most beautiful congressional district in the country. The district covers Pinellas County from Clearwater down through St. Pete, where he grew up.
Charlie has spent his life's work serving his fellow Floridians. He was elected to the Florida State Senate in 1992, where he championed environmental protection issues and public education. In 2000, after two terms in the Florida Senate, Charlie continued to push for education funding and better teacher pay as the state's Education Commissioner. In 2002, he was elected Florida Attorney General, a role through which he fought for consumer protections, civil rights, and opportunities for at-risk youth.
Elected as Florida's 44th Governor, Charlie furthered his commitment to public education, using federal stimulus funding to save thousands of teachers' jobs. As a staunch environmental advocate, he also secured a landmark land acquisition to preserve the Florida Everglades, and fought to hold BP accountable after the 2010 oil spill that ravaged Florida's coastline. He continued to lead efforts to protect civil rights, taking action to automatically restore voting rights of non-violent ex-felons and to extend voting hours across the state for all Floridians.
In Congress, Charlie is committed to working in a nonpartisan manner to create jobs, increase wages, protect our beaches from climate change, honor our military and veterans, and protect the benefits seniors have earned. With his role on the prestigious House Appropriations Committee, he will fight to combat climate change, protect clean air and water, provide for a strong national defense, support our veterans, build better roads and bridges, and strengthen programs designed for those struggling to make ends meet.
No matter the issue, Charlie is dedicated to being the voice of the people – always putting the residents of Pinellas County above party lines.
Charlie resides in his hometown of St. Petersburg, Florida – "The Sunshine City."
Voting Record
Committees
Committee on Appropriations

Subcommittee on Defense
Subcommittee on Commerce, Justice, Science, and Related Agencies
Subcommittee on Financial Services and General Government

Committee on Science, Space, and Technology

Subcommittee on Environment
Subcommittee on Space and Aeronautics
Caucuses
New Democrat Coalition[
Blue Dog Coalition
Climate Solutions Caucus
U.S.-Japan Caucus
Offices
Washington, DC Office
215 Cannon HOB
Washington, DC 20515
Phone: (202) 225-5961
Fax: (202) 225-9764
Downtown St. Pete Office
696 1st Avenue North, Suite 203
St. Petersburg, FL 33701
Phone: (727) 318-6770
Fax: (727) 623-0619
Midtown Office
1300 22nd Street South, Suite 316
St. Petersburg, FL 33712
For Appointments Call: (727) 318-6770
North County Office
9200 113th Street North, Suite 310
Seminole, FL 33772
For Appointments Call: (727) 318-6770
Contact
Email:
Web
Government Page, Twitter, YouTube, Facebook
Politics
Source: none
Campaign Finance
Open Secrets – We Follow the Money
Voting Record
VoteSmart – Key Votes & Ratings
Search
Wikipedia Entry
Charles Joseph Crist Jr. (/krɪst/; born July 24, 1956) is an American attorney and politician who served as the U.S. representative from Florida's 13th congressional district from 2017 to 2022. He also served as the 44th governor of Florida from 2007 to 2011. Crist has been a member of the Democratic Party since 2012. He began his political career as a Republican before becoming an independent in 2010 and a Democrat in 2012.
Crist served in the Florida Senate from 1993 to 1999, running unsuccessfully against incumbent Bob Graham for the U.S. Senate in 1998 and then serving as Florida Education Commissioner from 2001 to 2003 and Florida Attorney General from 2003 to 2007, before being elected governor in 2006.
While still governor, Crist ran for the U.S. Senate again in 2010. He initially led in polls in the race for the Republican nomination, but was later overtaken by Marco Rubio. In April of that year, he left the Republican Party to run in the general election as an independent,[1] losing to Rubio in a three-way race. He took 30% of the vote to Rubio's 49% and Democratic nominee Kendrick Meek's 20%. Crist's term as governor ended in January 2011.
On December 7, 2012, Crist joined the Democratic Party, having endorsed President Barack Obama for reelection in 2012.[2] On November 1, 2013, he announced that he was running for governor in the 2014 election.[3] Crist lost to Republican Governor Rick Scott, his successor, by a 1% margin.[4][5] In 2016, Crist was elected to Congress from his home district, the St. Petersburg-based 13th, defeating incumbent Republican David Jolly, 52%–48%[6] and becoming the first Democrat to represent this district since 1955. In the 117th Congress, Crist was the only former governor serving in the House.
Crist is the Democratic nominee in the 2022 Florida gubernatorial election. He faces incumbent governor Ron DeSantis.[7][8] He resigned his House seat on August 31, 2022, to focus on his gubernatorial campaign.[9]
Early life and education
Crist was born in Altoona, Pennsylvania,[10] on July 24, 1956, to Charles Joseph Crist, an American physician of Greek Cypriot and Lebanese descent,[11] and Nancy (née Lee), of Scots-Irish, Swiss, and Welsh descent.[11][12] His family name is adapted from the original Greek name "Christodoulos".[13] As a child, Crist moved to St. Petersburg, Florida, where he attended Riviera Middle School and St. Petersburg High School, from which he graduated in 1974. He is the second of four children and has three sisters: Margaret Crist Wood, Elizabeth Crist Hyden, and Catherine Crist Kennedy. He attended Wake Forest University for two years. While at Wake Forest, Crist was a walk-on quarterback for the Demon Deacons[14] during his freshman and sophomore years, before transferring to Florida State University in Tallahassee. Crist earned his undergraduate degree from Florida State, where he was elected vice president of the student body and joined the Pi Kappa Alpha fraternity. He received his J.D. from Samford University Cumberland School of Law.[15][16]
Early career
After graduating from Cumberland School of Law in 1981, and passing the bar on his third attempt,[17] Crist was hired as general counsel to Minor League Baseball, which was headquartered in St. Petersburg. Drawn to politics, Crist was a candidate for public office for the first time in 1986, in the Republican primary for a state Senate seat in Pinellas County. After losing in a runoff, Crist joined his brother-in-law in private practice in St. Petersburg, but soon returned to politics as an aide on the successful 1988 United States Senate campaign of Connie Mack III, whom he has since described as his political mentor.[18]
Florida Senate
In 1992, Crist was elected to a two-year term to the Florida Senate from the 20th district, which encompassed parts of St. Petersburg and South Tampa.[19] He defeated longtime incumbent Democratic State Senator Helen Gordon Davis of Tampa, 58.3 to 41.7%.[20][21] Crist was able to unseat Gordon Davis following the 1992 decennial redistricting process, which significantly reconfigured the districts in the Tampa Bay area.[20] His victory was credited with helping to end the Democratic Party's 128-year control of the Florida Senate, as the Republicans netted three seats in 1992, resulting in a 20–20 tie between the parties.[20]
Crist was known as a law-and-order senator, sponsoring legislation requiring inmates to serve at least 85% of their sentences before becoming eligible for parole.[10] He supported teacher salary increases, charter schools, and a specialty license plate for Everglades conservation.[19] With Crist as chairman, the Senate Ethics and Elections Committee investigated actions of then-governor Lawton Chiles amid allegations that Chiles's campaign had made "scare calls" to senior citizens days before the 1994 gubernatorial election. Chiles testified before the committee and admitted that his campaign had made the calls.[10][18]
In 1994, Crist was reelected to a four-year term in the Senate, defeating Democrat Dana Lynn Maley with 63.3% of the vote.[22]
Florida Education Commissioner
Crist gained recognition in 1998 as the Republican challenger to incumbent Democratic U.S. Senator Bob Graham. He lost to Graham by 26 percentage points.[23] In 2000, he was elected Education Commissioner of Florida, a position he held until it became an appointive office in 2003, as the result of a 1998 constitutional amendment.[18] Crist left his position after he was elected attorney general.
Florida Attorney General
In 2002, Crist was elected Florida Attorney General. His candidacy was supported by the host of America's Most Wanted, John Walsh. Walsh and other supporters cited his work with the Center for Missing and Exploited Children.
Civil rights and consumer groups praised Crist for expanding the attorney general's powers during his time in office. These powers enabled him and future attorneys general to have greater power to prosecute civil rights and fraud cases. Crist also worked to combat email spam, freeze utility rates, end telecom deception, and protect the environment.[10][24]
Governor of Florida
Having won the 2006 election, Crist was inaugurated as governor of Florida on January 2, 2007.
Abortion
Crist's stance on abortion has been unclear at times.[25] In 1995, while in the Florida Senate, Crist joined with two Democrats in the Senate Health Care Committee in voting against a proposal for a mandatory 24-hour waiting period before a woman could have an abortion, resulting in a 3–3 tie vote and the bill's defeat.[25] In 1998, while running for the U.S. Senate, Crist wrote in a Tampa Bay Times questionnaire that "I believe that a woman has the right to choose, but would prefer only after careful consideration and consultation with her family, her physician and her clergy; not her government."[25] In a debate that year, he said he did not support a constitutional amendment banning abortion.[25] In 2006, while running for governor, Crist said he did not support overturning Roe v. Wade and opposed a mandatory 24-hour waiting period before a woman could have an abortion.[25]
In 2010, while running for the U.S. Senate again, Crist said he would "fight for pro-life legislative efforts" and described himself as "pro-life".[26] By March 2010, however, as rumors swirled that he would leave the Republican Party and become an independent, Crist reiterated that he did not support overturning Roe v. Wade and told a Christian Family Coalition group, "We ought to, instead of change laws, change hearts."[27]
In June 2010, after leaving the Republican Party and becoming an independent, Crist removed anti-abortion language from his website.[28] Shortly thereafter, he vetoed a bill to require women seeking abortions to pay for and receive an ultrasound, calling the measure "punitive" and "almost mean-spirited".[26][28] The bill also included language barring abortion coverage "under a contract toward which any tax credit or cost-sharing credit is applied."[29] Legislative Republicans and anti-abortion groups said his language was aimed at preventing "what they considered the possibility of federal funding being used for abortion in Florida",[28][29] while abortion rights groups said the broadly written provision would have resulted "in hundreds of thousands of women losing health care coverage that they currently have."[29] The bill Crist vetoed also included some provisions "intended to thwart" the Affordable Care Act, the federal health care reform legislation championed by President Obama.[28]
Environmental policy
In June 2008 Crist proposed that Florida buy 187,000 acres (76,000 ha) from the United States Sugar Corporation for $1.2 billion. The purchase would remove about 187,000 acres of sugar farming for restoration efforts. In front of supporters in Palm Beach County, Crist called the deal "as monumental as our nation's first national park."[30] Economic changes forced the purchase to be reduced to 73,000 acres (30,000 ha) of sugar and citrus plantations for Everglades restoration projects.[31][32][33][34]
Crist announced plans to sign executive orders to impose strict air pollution standards in Florida, with an aim to reduce greenhouse gas emissions by 80% of 1990 levels by 2050.[35] In his gubernatorial campaign Crist opposed offshore oil drilling. He altered that position in June 2008, when oil reached peak prices, saying, "I mean, let's face it, the price of gas has gone through the roof, and Florida families are suffering, and my heart bleeds for them."[36]
Fiscal policies
Crist supported President Obama's American Recovery and Reinvestment Act of 2009, a stimulus package in response to the Great Recession.[37][38][39] Fellow Republicans were angered by Crist's support for the stimulus.[40]
Crist called the act a "godsend",[41] maintaining that it had saved the jobs of nearly 20,000 Florida schoolteachers and other school workers in 2009–2010.[42]
Gun policy
In 2008, Crist signed a provision preventing employers from prohibiting employees from bringing firearms to the workplace, as long as the weapons are secure and the employees have a concealed carry license.[43][44]
LGBT rights
In 2006, as a proposed state constitutional amendment banning same-sex unions was headed to the ballot in Florida, Crist said that such an amendment was unnecessary because state law already barred same-sex marriages.[45] But in September 2005, Crist had signed a petition for the amendment during the Republican primary at the Christian Coalition's request.[45][46] Crist said in campaign materials at the time that he supported "traditional marriage".[45] In 2008, Crist said he voted for the amendment, which passed.[45]
In a debate and a radio talk show appearance in 2006, Crist indicated support for civil unions.[46] In 2010, after becoming an independent during the U.S. Senate race, he declared his support for civil unions encompassing "the full range of legal protections" including "access to a loved one in the hospital, inheritance rights, the fundamental things people need to take care of their families."[46] It is unclear whether the 2008 state constitutional amendment Crist supported would have prohibited such civil unions.[46]
As governor Crist deemphasized the marriage issue, saying in a late 2007 CNN appearance, "It's not an issue that moves me. I'm just a live and let live kind of guy", and telling the Orlando Sentinel in 2008 that the issue was not "top-tier" for him.[45][46]
Crist initially supported Florida's ban on same-sex adoption, which had been in place since 1977.[47] He publicly expressed support for the ban from the time he was attorney general in 2006 to his campaign for the U.S. Senate in 2010, even after some state legislators proposed dropping the ban in 2007. In 2008, in the case of In re Gill, a Miami-Dade judge struck down the ban as unconstitutional.[47] As the case proceeded through appeals, Crist expressed support for the ban as late as February 2010,[47] but by June 2010, expressed openness to changing Florida law to allow same-sex adoption, saying a better approach "would be to let judges make that decision on a case-by-case basis."[47][48]
In September 2010, Crist said that he had had an "appropriate evolution" on gay rights and was considering dropping the state's appeal of the court ruling striking down Florida's ban on gay adoption.[49] Days later, after an appeals court struck down the ban, Crist hailed the ruling "a very good day for Florida" and "a great day for children" and announced that the state would no longer seek to enforce the ban.[47] In a Senate candidates' debate the next month, he attributed his shift in positions to "the convergence of life experience and wisdom", saying that he had become more tolerant and become less judgmental with age.[47]
In January 2014, Crist apologized for his support for the 2008 same-sex marriage ban and for the same-sex adoption ban, telling an Orlando LGBT publication, "I'm sorry I did that. It was a mistake. I was wrong. Please forgive me."[50][51][52]
Other issues
As governor, Crist supported capital punishment.[53]
After claims that computerized voting machines undercounted votes in black communities, Crist endorsed legislation requiring paper records of all ballots cast in elections.
In April 2010, Crist vetoed an education bill that would have linked teacher pay to test scores, a piece of legislation conservatives strongly supported.[54]
Crist supported increased regulation of the insurance industry, including property insurance rates (in the aftermath of Hurricane Katrina) and health insurance. The Citizen's Property Insurance Corp and the Florida Hurricane Catastrophe Fund had been described as risky and underfunded. Standing next to former football star Dan Marino (whose son, Michael, is autistic and inspired the Dan Marino Foundation[55]), Crist signed a law expanding health coverage statewide for autism disorders and legislation expanding low-income coverage and creating public and private insurance options in Florida.[56][57][58][59][60][61]
In April 2022, Crist said he opposed the repeal of the Reedy Creek Improvement Act, arguing that it would hurt Florida's economy and tourism.[62]
Fundraising controversies
In February 2006, Crist attended a fundraiser at Mar-A-Lago, hosted by Donald Trump, with guests paying $500 to attend. Two of the guests became subjects of controversy.[63] One, Volodymyr Shcherban, was a Ukrainian government official who had recently fled his country after being charged with corruption.[64][65] The other, Russell Whitney, was a businessman from Cape Coral, Florida, who at the time was under investigation by Crist's office (and two of whose businesses had previously made the maximum allowable $500 contribution to Crist's campaign).[66] Crist subsequently returned $1,000 to Whitney's businesses, and determined that Shcherban's entry fee had been paid by another guest.[67]
In 2009, Crist saw the man he had chosen as Florida GOP finance chairman, his former fraternity brother, oil magnate Harry Sargeant III, forced to step down.[68] One of Sargeant's employees, Ala'a al-Ali of the Dominican Republic, was indicted in Los Angeles for organizing $5,000 in illegal campaign contributions to Crist, as well as $50,000 to presidential candidates Hillary Clinton, John McCain and Rudy Giuliani.[69]
Role in the 2008 presidential election
Senator John McCain endorsed Crist's 2006 campaign for governor, traveling the state to campaign with him. The day before the general election, Crist held a campaign event with McCain in Jacksonville. Later, when the Republican presidential primary debates were held in St. Petersburg, Crist embraced McCain. Former New York City Mayor Rudy Giuliani, who had also campaigned for Crist during the gubernatorial election, had sought his endorsement.[70][71][72][73]
In May 2007, Crist signed a bill moving the date of Florida's presidential primary to January 29, 2008, contrary to national political party rules.[74] Crist joined Michigan governor Jennifer Granholm in asking that their states' delegates be seated. Both national conventions ended up seating all delegates, but with only a half vote each for the sanctioned states.[75][76][77][78]
On January 26, 2008, Crist endorsed McCain in the Republican primary.[79] McCain won the Florida primary by five percentage points.[80]
On October 28, 2008, Crist extended early voting hours of operation and declared that a "state of emergency exists", due to record voter turnout and resultant hours-long waits at locations throughout the state.[81][82]
On November 12–14, 2008, Crist hosted the Republican Governors Association (RGA) annual meeting in Miami. Held the week after the Democratic Party victories in the 2008 election,[83] there was speculation about the meeting's tone. Then Alaska Governor Sarah Palin, the defeated 2008 Republican vice presidential nominee, was a featured participant and speaker.
Crist's speech at the RGA conference, "Listen to the Voters and Serve", included his sentiments on how the GOP should evolve:
This party can no longer hope to reach Hispanics, African Americans and other minority groups – we need to just do it. Embracing cultures and lifestyles will make us a better party and better leaders. This desire for inclusiveness is near and dear to my heart … Last week, the American people made a choice and this week, if we choose to call ourselves leaders, if we truly endeavor to serve with a servant's heart for the people who count on us, then we too must work together, listen to one another and learn from the leaders who made the kind of history the American people deserve.[84]
Crist held a joint interview with Governor Mark Sanford of South Carolina in which they discussed the split in the Republican Party over where to direct the party's efforts to gain more voters.[85]
2010 U.S. Senate campaign
On May 12, 2009, Crist announced that he would not run for reelection as governor in 2010, making him the first Florida governor not to run for reelection since 1964.[86] Instead he ran for the US Senate. His two main opponents were former Florida House Speaker Marco Rubio,[87][88] and U.S. Representative Kendrick Meek.[89]
Crist was initially the front-runner in the Republican primary, but later trailed Rubio in polls.[90][91]
Crist announced his intent to run as an unaffiliated candidate in the election, while at the same time, according to a press release from his campaign, he remained a registered Republican.[92] Crist officially changed his registration status to "non party affiliated" on May 13, 2010. He did not return campaign contributions made while he was a Republican.[93][94] Crist lost the general election, receiving 29.7% of the vote to Rubio's 48.9% and Meek's 20.2%.[95]
In April 2011, as part of a settlement of a copyright lawsuit brought by musician David Byrne, Crist apologized for his Senate campaign's use of Byrne's song "Road to Nowhere" without permission.[96][97]
By the spring of 2015, there was speculation that Crist would seek the Democratic nomination for the 2016 United States Senate election in Florida. This would have been his third run for the seat (he lost in 1998 and 2010). In March 2015, Crist said he would not seek the nomination. That same month, he endorsed U.S. Congressman Patrick Murphy's Senate candidacy.
Hiatus (2011–2014)
In January 2011, Crist joined the Tampa office of national personal injury law firm Morgan & Morgan after expressing an interest in returning to the legal field during his final week in office as governor of Florida. Crist worked primarily in the firm's class-action sector as a complex-litigation attorney, serving as a "rainmaker" for the firm.[98] In November 2016, after almost six years with the firm, he was elected to represent Florida's 13th congressional district.[99] In February 2018, Brad Slager of Sunshine State News, cited evidence that Morgan & Morgan was "attempting to purge all evidence" of its relationship with Crist now that he was a "rookie congressman" with "little-to-no power".[100]
In 2013, Crist performed paid consulting work for Coastal Construction, a Miami-based construction firm owned by Crist's longtime friend Tom Murphy, the father of former U.S. Representative Patrick Murphy.[98]
Crist has been a part-time guest lecturer at Stetson University College of Law,[101] with the title of Distinguished Professorial Lecturer.[102]
In August 2012, Crist endorsed President Obama in his campaign for reelection over Republican nominee Mitt Romney, saying that the Republican Party "pitched so far to the extreme right on issues important to women, immigrants, seniors and students that they've proven incapable of governing for the people."[103][104] Crist was a speaker at the 2012 Democratic National Convention in Charlotte, North Carolina, saying, "I didn't leave the Republican Party; it left me."[105][106]
Party switch and The Party's Over
On December 7, 2012, Crist announced that he had joined the Democratic Party.[2] In July 2013, Crist began writing a book, with Newsday columnist Ellis Henican, about his political transition.[107][108] The book, The Party's Over: How the Extreme Right Hijacked the GOP and I Became a Democrat, was released in February 2014.[109][110][111] In the book, Crist claimed that his career in the Republican Party was destroyed by a hug between him and Obama at a Fort Myers town hall on February 10, 2009. "It was the kind of hug I'd exchanged with thousands and thousands of Floridians over the years", Crist wrote. "I didn't think a thing about it as it was happening." But it "ended my viable life as a Republican politician. I would never have a future in my old party again. My bipartisan hopes and dreams, I would discover soon enough to my shock and disappointment, were vastly overstated and hopelessly out of date."[112]
In May 2014, Crist told Fusion's Jorge Ramos that he had left the Republican Party because of its racial attitudes. "I couldn't be consistent with myself and my core beliefs, and stay with a party that was so unfriendly toward the African-American president—I'll just go there", Crist said. "I was a Republican and I saw the activists and what they were doing. It was intolerable to me." The Washington Post's Chris Cillizza rejected this claim, citing Tampa Bay Times political editor Adam Smith as saying that Crist "was happy as a Republican when the polls showed him leading Marco Rubio by 20 points." Cilizza wrote that Crist's party switch "epitomized for many within the Republican base that Crist lacked any core principles or beliefs and, instead, simply went with whatever was popular at the moment."[113]
In a review in The New Republic, Isaac Chotiner called The Party's Over "a dishonest and boring memoir" by "a man with no convictions".[114] Writing in Rolling Stone magazine in 2014, Jeb Lund described Crist as "a Republican conveniently converted to Democrat", adding, "what made Crist dynamic as a Republican … was a vaguely populist nose-thumbing at Republican orthodoxy", and that "Charlie Crist is a Democrat only if you are a Republican."[115]
2014 gubernatorial election
On November 1, 2013, Crist filed to run for governor as a Democrat.[116] He won the Democratic nomination but was defeated in the general election by Republican incumbent Rick Scott. Crist holds the rare distinction of losing a statewide general election in Florida as a Republican, a Democrat and an Independent.
U.S. House of Representatives
Elections
2016
On October 20, 2015, Crist announced that he would seek the Democratic nomination for Florida's 13th congressional district, his home district, in the 2016 U.S. House of Representatives elections.[117] He had previously announced on Twitter that he would not run for political office in 2016.[118] Republican incumbent David Jolly, who succeeded 43-year incumbent Bill Young in a 2014 special election, was vacating the seat to run for the same Senate seat for which Crist ran in 1998 and 2010.
But when Senator Marco Rubio decided to run for reelection, Jolly dropped out of the Senate race and sought reelection to the House, even though the 13th district had become significantly friendlier to Democrats when a court tossed out Florida's original congressional map. The new map drew nearly all of St. Petersburg, along with most of the more Democratic southern portion of Pinellas County, into the 13th.[119] The district had been in Republican hands without interruption since 1955, and had been one of the first areas of Florida to turn Republican. However, it had become more of a swing district at the presidential level since the 1990s; it has supported a Democrat for president in all but one election since 1992.
In the general election, Crist defeated Jolly 52–48%,[6] becoming the first Democrat to win the seat in 62 years.
2018
In 2018, Crist was endorsed by the League of Conservation Voters (LCV) Action Fund, which called him "a leader on protecting Florida from and planning for the impacts of climate change during his time as Governor and in Congress."[120] Crist won a second term with 57 percent of the vote.
Tenure
Crist was sworn in on January 3, 2017. He is a member of the Blue Dog Coalition,[121] the New Democrat Coalition,[122] the Climate Solutions Caucus[123] and the U.S.-Japan Caucus.[124]
On December 18, 2019, Crist voted for both articles of impeachment against President Donald Trump.[125]
On January 13, 2021, Crist voted in favor of the single article of impeachment against President Trump during the second impeachment of Donald Trump.[126]
Crist introduced H.R. 305, which presented the Congressional Gold Medal to Officer Eugene Goodman for his valor during the January 6 United States Capitol attack.[127]
On August 31, 2022, Crist resigned from Congress to focus on his gubernatorial campaign.[128]
Committee assignments
Caucus memberships
2022 gubernatorial election
On May 4, 2021, Crist announced his candidacy for the Democratic nomination in the 2022 Florida gubernatorial election.[7] Crist won the primary election on August 23, 2022; he will face Ron DeSantis in the general election on November 8, 2022. Crist's running mate for lieutenant governor is union leader Karla Hernández-Mats, president of the United Teachers of Dade.[131]
Political positions
Cuba
In May 2014, Crist publicly supported lifting the United States embargo against Cuba, arguing it has not helped to change the Cuban government. He had supported the embargo earlier as both a Republican and independent.[132] Also in 2014, he announced he had requested the Department of State's permission to travel to Cuba with a delegation of business, academic and economic development officials. In June, Crist indefinitely postponed the trip.[133][134][135]
In 2019, Crist quietly visited Cuba to meet with Cuban officials, despite high bilateral tensions due to alleged Cuban support for the Maduro regime in Venezuela.[136] The three-day trip was not announced by his congressional office and was disclosed due to required filings in the House of Representatives Committee on Ethics, with no details about it on Crist's House website.[136] The trip was sponsored by the Center for Democracy in the Americas, an organization that "promotes a U.S. policy toward Cuba based on engagement and recognition of Cuba's sovereignty", according to its website.[136] Photos of Crist smiling during a meeting with Cuban officials, including Cuban Foreign Minister Bruno Rodríguez, were published in the official newspaper of Cuba's Communist Party during his stay.[136]
Felons' voting rights
In a February 12, 2018, op-ed for USA Today, Crist wrote that Florida was "one of only three states that permanently bans non-violent, ex-felons from voting" and that this "disenfranchisement of 1.5 million of our fellow citizens is shameful."[137]
Gun policy
After the December 2012 Sandy Hook Elementary School shooting, Crist announced a reversal of some of his previous stances on gun control. Before 2012, he had sometimes accused his opponents of not supporting gun rights strongly enough. He was endorsed by the NRA in 2006. In 2012, Crist announced that he supported reinstating the Federal Assault Weapons Ban, banning high-capacity magazines, and instating more extensive background checks.[138] In the wake of the Stoneman Douglas High School shooting, he announced his support for additional measures, including a ban on bump stocks,[139] and also said he did not support arming teachers.[140]
When he left office as governor in 2011, Crist had an A rating from the NRA.[141] In 2016, he received an F rating from the NRA.[142]
Immigration
In June 2017, Crist was one of 24 House Democrats to vote for Kate's Law. The next month, he was one of five Democrats to vote to fund President Trump's border wall, and the next day, issued a statement saying that he opposed the wall.[143]
Marijuana legalization
Crist said "fully legalizing marijuana" would bring about "true justice in our state and in our country" in announcing his candidacy for governor in 2021.[144] He also voted for the Marijuana Opportunity Reinvestment and Expungement (MORE) Act to legalize cannabis at the federal level and expunge cannabis convictions in 2020.[145][146] In 2018, he introduced the Fairness in Federal Drug Testing Under State Laws Act to limit the firing of federal workers and denial of applicants for cannabis use.[147]
Same-sex marriage
In both 2006 and 2008, Crist announced his support for the Federal Marriage Amendment, but by 2010 he had endorsed adoption rights for gay couples.[148] On May 9, 2013, Crist announced that he supports same-sex marriage: "I most certainly support marriage equality in Florida and look forward to the day it happens here."[149]
Personal life
In July 1979, Crist married Amanda Morrow. They divorced within a year.[150]
Crist became engaged to Carole Rome on July 3, 2008, after nine months of dating, and they married on December 12 of that year at the First Methodist Church of St. Petersburg, of which Crist is a member.[151] In February 2017, Crist announced that he had filed for divorce,[152] and the divorce was completed that year.[153]
In 2022, while running for governor again, Crist said he was engaged to a woman he met in 2017, who is a mother of six children and a medical sonographer.[153]
Electoral history
2000 Florida Education Commissioner election[156]

Party
Candidate
Votes
%
Republican
Charlie Crist
2,979,297
53.72%
Democratic
George H. Sheldon
2,464,557
44.44%
Independent
Vassilla Gazetas
102,358
1.84%
Total votes
5,546,212
100.00%
2002 Republican primary results for Florida Attorney General

Party
Candidate
Votes
%
Republican
Charlie Crist
484,466
50.11
Republican
Tom Warner
257,049
26.59
Republican
Locke Burt
225,360
23.31
Total votes
966,875
100.00
2006 Republican primary results for Florida Governor[158]

Party
Candidate
Votes
%
Republican
Charlie Crist
630,816
63.98%
Republican
Tom Gallagher
330,165
33.49%
Republican
Vernon Palmer
13,547
1.37%
Republican
Michael W. St. Jean
11,458
1.16%
Total votes
985,986
100.00%
2006 Florida gubernatorial election[159]

Party
Candidate
Votes
%

±%

Republican
Charlie Crist/Jeff Kottkamp
2,519,845
52.20%
−3.81%
Democratic
Jim Davis/Daryl Jones
2,178,289
45.10%
+1.94%
Reform
Max Linn
92,595
1.90%
+1.90%
Independent
John Wayne Smith
15,987
0.30%
Independent
Richard Paul Dembinsky
11,921
0.20%
Independent
Karl C.C. Behm
10,487
0.20%
Write-ins
147
0.00%
0
Majority
341,556
7.10%
-5.75%
Turnout
4,829,271
Republican hold
Swing
2010 United States Senate election in Florida[160]

Party
Candidate
Votes
%

±%

Republican
Marco Antonio Rubio
2,645,743
48.89%
−0.54%
Independent
Charlie Crist
1,607,549
29.71%
+29.71%
Democratic
Kendrick Brett Meek
1,092,936
20.20%
−28.12%
Libertarian
Alexander Snitker
24,850
0.46%
N/A
Independent
Sue Askeland
15,340
0.28%
N/A
Independent
Rick Tyler
7,394
0.14%
N/A
Constitution
Bernie DeCastro
4,792
0.09%
N/A
Independent
Lewis Jerome Armstrong
4,443
0.08%
N/A
Independent
Bobbie Bean
4,301
0.08%
N/A
Independent
Bruce Riggs
3,647
0.07%
N/A
Write-ins
108
0.00%
Majority
1,038,194
19.19%
+18.08%
Turnout
5,411,106
48.25%[161]
−22.67%
Total votes
5,411,106
100.00%
Republican hold
Swing
2014 Democratic primary results for Florida Governor[162]

Party
Candidate
Votes
%
Democratic
Charlie Crist
623,001
74.36%
Democratic
Nan Rich
214,795
25.64%
Total votes
837,796
100%
2014 Florida gubernatorial election[163]

Party
Candidate
Votes
%

±%

Republican

Rick Scott/Carlos López-Cantera (incumbent)

2,865,343
48.14%
−0.73%
Democratic
Charlie Crist/Annette Taddeo
2,801,198
47.07%
−0.65%
Libertarian
Adrian Wyllie/Greg Roe
223,356
3.75%
N/A
Independent
Glenn Burkett/Jose Augusto Matos
41,341
0.70%
N/A
Independent
Farid Khavari/Lateresa A. Jones
20,186
0.34%
+0.20%
N/A
Write-ins
137
0.00%
0.00%
Total votes
5,951,571
100.0%
N/A
Republican hold
Florida's 13th congressional district, 2018

Party
Candidate
Votes
%
Democratic
Charlie Crist (incumbent)
182,717
57.6
Republican
George Buck
134,254
42.4
Total votes
316,971
100.0
Democratic hold
Books
See also
References
External links
Issues
Committees
Legislation
Issues
In 2017, a report on civility in America, found that incivility has reached "crisis levels" in our country.  Nine out of 10 Americans agree that incivility leads to intimidation, threats, harassment, discrimination, violence, and cyberbullying.  A majority of Americans believe that incivility in our politics encourages general incivility in society and deters citizens from engaging in public service.

In light of this challenge, one of my first actions in Congress was pledging a "Commitment to Civility", recognizing the importance of civility in our public discourse. As public officials, we have a responsibility to lead by example, fostering more civility, and starting in the halls of Congress. Words matter, how we treat each other matters – we can disagree without being disagreeable. I am proud that what started as a freshman class initiative has grown to more than 120 members signing the pledge.

Click here to view the Commitment to Civility. Click here to see who has signed the pledge.

Furthering this commitment, I joined with my colleague Mike Johnson, a Republican from Louisiana, who spearheaded the Commitment to Civility, to launch the Honor and Civility Caucus. This bipartisan group aims to uphold and promote the ideals of civility and statesmanship and to restore trust and confidence in America's political institutions.

We also joined together to introduce bipartisan legislation designating a National Day of Civility, an annual observance on July 12th, inspired by the language of Matthew 7:12, which reads: "So in everything, do to others what you would have them do to you." Click here to read more about our National Day of Civility initiative in our joint op-ed in The Hill.

https://www.youtube.com/watch?v=9qe5EA8hkPQ&feature=emb_logo