Summary
Current Position: US Representative of FL 3rd District since 2021
Affiliation: Republican
Featured Quote: 
Only in our great country can someone like me go from homeless to the House, where I am now the youngest Republican woman in Congress. I'm fighting for Americans like you every day by pushing back on the far-Left.
Featured Video: 
Rep. Cammack Joins Varney & Co. To Discuss Speaker Pelosi's Mask Mandate And Hypocrisy
News
i
Press Releases
In the News
Photo Gallery
Videos
eNewsletters
Social Media
Op-eds/Editorials
U.S. Rep. Kat Cammack has reiterated her belief President Joe Biden should resign over events in Afghanistan.
During an appearance Monday on "Fox & Friends," the first-term U.S. Representative compared the President to the 1989 film "Weekend at Bernie's," a less-than-subtle suggestion Biden may be little more than a figurehead anyways.
She offered the cinematic comparison when pressed on the fact Biden's resignation would result in Vice President Kamala Harris becoming President.
About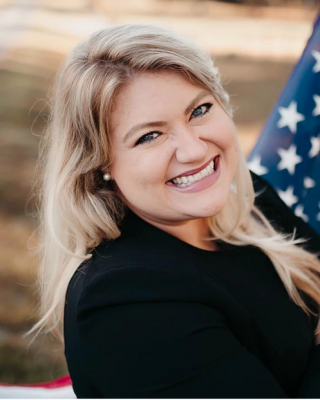 Source: Government page
Congresswoman Kat Cammack proudly serves Florida's 3rd Congressional District as the youngest Republican woman in the 117th Congress.
Kat is a third-generation sandblaster who grew up on a cattle ranch and she understands the hard work and determination it takes to run a small business, navigating labor challenges, interpreting regulation, and more. A proud alumnus of the Naval War College, Kat knows the issues and constituents of Florida's 3rd intimately, having served as the longtime former deputy chief of staff for the district prior to her election in 2020.
An Obama-era program forced Kat's family to lose their cattle ranch in 2011, evicting them from their home and livelihood. After months of homelessness, Kat was motivated to fight back against the failures of big government and dedicated her life's work to becoming part of the solution in Washington. Representative Cammack fights for Florida's 3rd District to ensure no other family has to endure what hers experienced.
Kat is a proud wife to her husband Matt, a Gainesville native, who serves with the Gainesville Fire Department as a firefighter/paramedic and SWAT medic.
Contact
Email:
Politics
Source: none
Campaign Finance
Open Secrets – We Follow the Money
Voting Record
VoteSmart – Key Votes & Ratings
Search
Wikipedia Entry
Kathryn Christine Cammack (/ˈkæmæk/ KAM-mack; born February 16, 1988)[2] is an American politician and political advisor serving as the U.S. representative for Florida's 3rd congressional district. A member of the Republican Party, Cammack previously served as deputy chief of staff to her predecessor, Representative Ted Yoho, who retired in 2020.[3] She is the second-youngest woman elected to Congress in the 2020 election cycle, behind Democrat Sara Jacobs.[4]
Early life and education
Cammack was born in Denver, Colorado, and raised on a 55-acre cattle ranch.[5][6][7][8][9] She earned a Bachelor of Arts degree in international relations from the Metropolitan State University of Denver and a Master of Science in national defense and strategic studies from the Naval War College.[10][11] Cammack says she lived with her mother in an extended-stay motel for four months.[5][12][13]
Career
Cammack has said that her family's experience with the federal Home Affordable Modification Program in 2011 inspired her interest in politics.[14] In 2009, she interned with U.S. Representative Mike Coffman.[15] She later joined Ted Yoho's congressional campaign.[16][17][18] After Yoho was elected, Cammack served as his deputy chief of staff from 2013 to 2019.[19][20] In 2019, she left Yoho's office in Washington, D.C. and returned to Florida. Yoho did not seek reelection in 2020, fulfilling his pledge to serve only four terms.[21] Cammack announced her candidacy for Yoho's seat in December 2019.[22]
Cammack also operates an independent political consulting firm.[23] She was heavily favored to win the November general election,[24][25][26][27] in part due to political gerrymandering by Republicans after 2010.[28] In September 2020, Donald Trump endorsed her.[29] After her primary win, Cammack established a leadership PAC.[30][31]
Cammack has expressed interest in chairing the Republican Study Committee.[32]
U.S. House of Representatives
Elections
2020
Cammack defeated Democratic nominee Adam Christensen. She assumed office on January 3, 2021.[33]
2022
Cammack is running for reelection though the district lines have changed.[34]
Caucus memberships
Campus Free Speech Caucus[36]
Political positions
Abortion
Cammack is anti-abortion.[37] She believes states should determine their abortion laws,[38] and abortion should be allowed only in extreme cases in the first trimester.[37] During her campaign, she released an advertisement in which she stated that, when her mother was pregnant with her, she was advised by doctors to have an abortion, but chose not to.[39]
Congressional term limits
In March 2020, Cammack signed the U.S. Term Limits pledge. She said that a "limit on the time an individual can serve brings new ideas to Capitol Hill."[40]
Economy
Cammack cosponsored a bill to expand federal home loans for first responders and educators.[41] The bill, introduced in May 2021, has not passed out of committee.[42]
Electoral College vote count and storming of the United States Capitol
Cammack was one of the 139 representatives to vote to overturn the results of the 2020 presidential election on January 7, 2021.[43] On the House floor, she said the January 6, 2021, attacks "furthermore resolved" her objection to the certification process and as that as representatives of the people, members of Congress must stand for a free and fair election for all Americans.[44] There was no evidence that the election was not free or fair to an extent that would change the outcome, despite numerous inquiries.[45][46]
Law Enforcement
Cammack said it is reassuring that the Capitol Police are expanding into Florida and will work with local law enforcement.[47]
Energy and environment
Cammack cosponsored the PROTECT Florida Act to prohibit oil and gas drilling off the coast of Florida until 2032.[48] The bill, introduced in October 2021, has not passed out of committee.[49] On March 14, 2022, Cammack said the U.S. needs to produce more oil.[50]
Firearms
Cammack is a board member of the Alachua County Friends of the National Rifle Association.[51] In 2020, the NRA endorsed her.[52] In 2021, she voted for the National Defense Authorization Act, which contained anti-gun provisions.[53][54][55]
Foreign affairs
In June 2021, Cammack was one of 49 House Republicans to vote to repeal the AUMF against Iraq.[56][57] She voted for the Ukraine Democracy Defense Lend-Lease Act of 2022.[58]
Immigration and border security
Cammack has supported the construction of a border wall along the Mexico–United States border.[59]
During the 2022 United States infant formula shortage, Cammack criticized the Biden administration for sending baby formula to detention facilities on the U.S.-Mexico border.[60] White House Press Secretary Jen Psaki said that under the Flores Settlement Agreement, the U.S. is required to provide adequate and age-appropriate food, "hence formula for kids under the age of 1."[61] During an interview with Sean Hannity on Fox News, Cammack showed pictures of baby formula she said she had received from a CBP agent. Tommy Christopher wrote that some of the images used in Cammack's interview with Hannity were not of baby formula but of powdered milk for children older than one. Hannity later acknowledged on Twitter that two of the pictures he aired during Cammack's appearance were milk products for children over one.[62][63]
LGBT rights
On July 19, 2022, Cammack and 46 other Republican Representatives voted for the Respect for Marriage Act, which would codify the right to same-sex marriage in federal law.[64]
Personal life
Cammack's husband, Matt Harrison, is a firefighter.[19] Cammack is a Protestant.[65]
See also
References
External links
Issues
Committees
Homeland Security Committee, Rep. Cammack serves as the Ranking Member (lead Republican) on the Subcommittee for Emergency Preparedness, Response and Recovery. Congresswoman Cammack also serves as the lone Florida Republican on the House Agriculture Committee. There, she serves on the Subcommittee for Commodity Exchanges, Energy, and Credit and the Subcommittee for Nutrition, Oversight, and Department Operations.
Legislation
Learn more about legislation sponsored and co-sponsored by Representative Cammack.